RMR Botanical Cleaner & Treatment
Description
The RMR Botanical Cleaner and Treatment is a superior product that you can use to get rid of grime and eliminate awful smells. It works on porous surfaces like concrete, wood, dry wall and more. While most cleaners sit on the surface and don't absorb into porous materials, our formula digs deep to remove odors at the source while leaving behind a brilliant finish.
The thing that makes the RMR Botanical Cleaner and Treatment solution so unique is that it doesn't use harsh chemicals. Instead, it's all plant - based ingredients. Don't let that fool you. This formula is anything but weak.
We've carefully selected ingredients that provide real results without harmful fumes or sticky residue.
Because it's safe and free of chemicals like chlorine and ammonia, you can use it anywhere. It's safe to use around pets, animals and people sensitive to harsh fumes. RMR Botanical cleaner is the go - to choice for schools, hospitals and more.
The ready - to - use formula starts working immediately. Plus, you don't have to rinse or wipe. Let the solution do the work for you!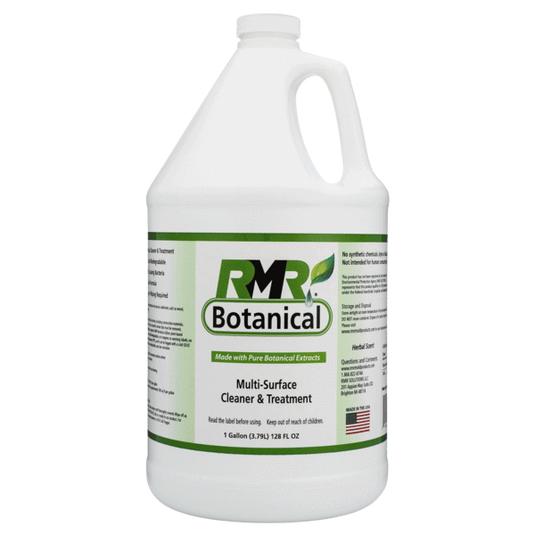 Powerful Clean in a Variety of Applications
This product is a superior multi-surface cleaner that penetrates into porous substrates, such as wood, concrete, drywall, fiberglass, fabric, vinyl and more. Made with plant based ingredients that stop odor causing bacteria with just one treatment and are safe to use to on almost all surfaces. This powerful cleaner and odor neutralizer treatment leaves no harmful residue that must be removed, therefore no rinsing or wiping is required.
Features and Benefits
Ready to use formula
Superior cleaner
No rinsing or wiping required
Ammonia free, Chlorine free
Ready to use – no mixing required
Watch the Video