RMR Tub and Tile Cleaner, Mold & Mildew Stain Remover
Description
Eliminate years of mold and mildew stains in just 15 seconds with the RMR Tub and Tile Cleaner, Mold & Mildew Stain Remover! This product offers a quick and easy solution to stubborn stains. Breathe new life into your bathroom and make every surface look pristine.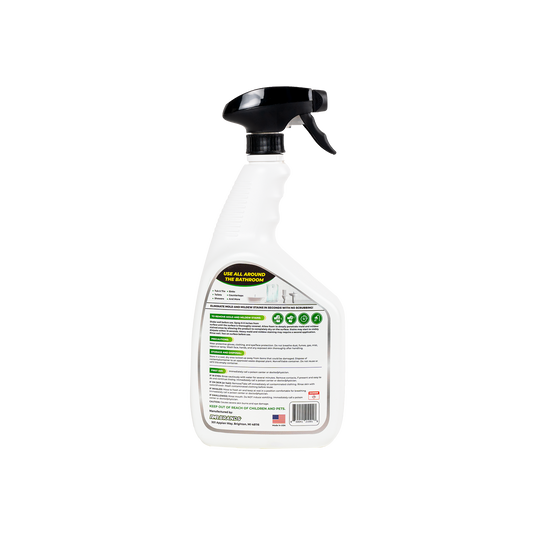 The Ultimate Stain Removal Spray for Tub & Tile
Mold is a type of fungus that can be found both inside and outside and can grow in warm, damp, or humid areas such as basements, attics, and bathrooms. It can be difficult for home and business owners to avoid and is often present in moist environments. Our experts at RMR aim to create a simple solution to the unsightly stains caused by mold and mildew, formulating our professional-strength cleaner to instantly eliminate the stains and discoloration they leave behind.
Why Choose RMR?
At RMR, we create powerful solutions to everyday problems. Our industrial-strength mold and mildew stain removal products work well anywhere from the office to your home, removing stubborn stains from your tub, shower, and tile and leaving behind a crisp, clean, modern orchard scent. For quality products and great value, try RMR Tub and Tile Cleaner, the best mold and mildew stain removal product on the market.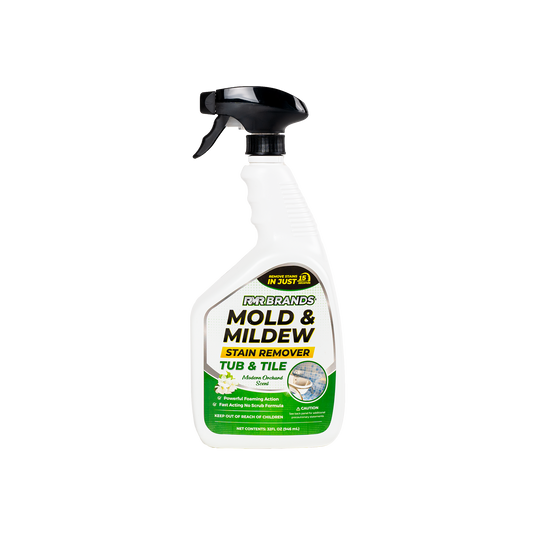 RMR Tub and Tile Cleaner, Mold & Mildew Stain Remover
How To
RMR Tub and Tile Cleaner freshen and remove stains from your bathtub and tile surfaces. This highly-effective, ready-to-use cleaner quickly removes deeply embedded stains and brightens the application site without damaging or discoloring grout or tile. Our extra-strength, no-scrub formula works on contact to penetrate and dissolve discoloration, and easily wipes clean to reveal sparkling, stain-free surfaces. Tub and Tile Cleaner features a powerful, foaming action that can be applied to bathroom and shower areas where humidity can build up and cause mold and mildew to form. It begins working immediately and permanently eliminates stains in just 15 seconds.
Spray 6-8 inches from surface until thoroughly covered
Allow mold and mildew stained areas by allowing the product to completely dry on surface
Most stains will dissipate within 15 seconds- heavy stains may require multiple applications
Rinse surface thoroughly once stain has been removed
Watch the Video