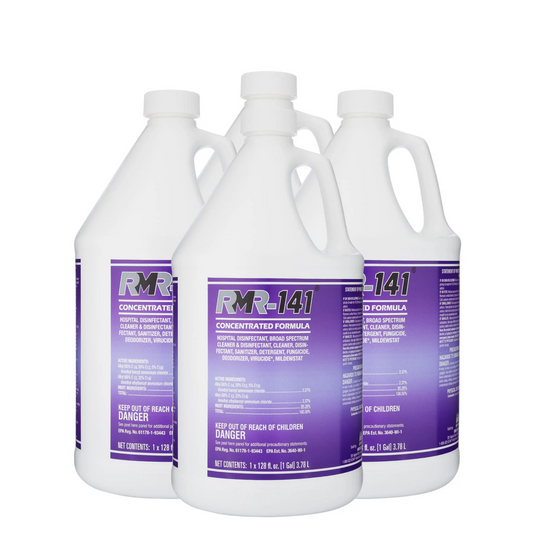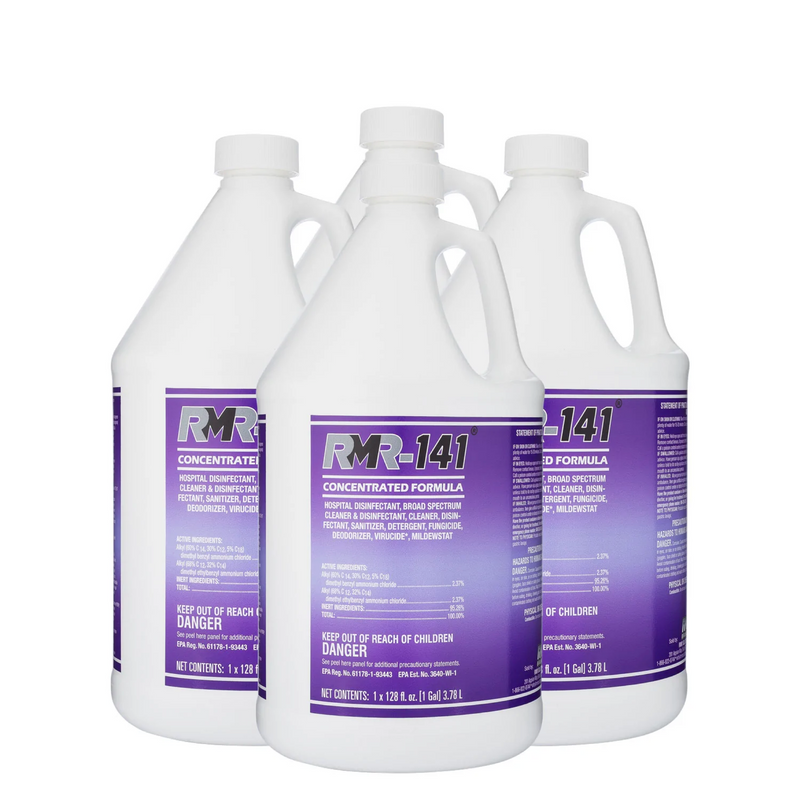 RMR-141 Disinfectant Concentrate
Description
Harness the power of one of the world's most effective cleaners and disinfectants without wasting space in your supply room.
The RMR - 141 Disinfectan t Concentrate is an EPA - registered disinfectant, cleaner and deodorizer that comes in a highly concentrated form. A single gallon of concentrate can make up to 64 gallons of product. Invest in your business, save space and take full advantage of the RMR - 14 1 formula.
POWERFUL MULTI - ACTION SANITIZATION
RMR - 141 is no ordinary disinfectant. It's a deep - penetrating formula that acts as a fungicide, virucide, mildewstat and cleaner. Perfect for use in schools, stores, hospitals and more, it's a highly effective product that kills more than 141 unique microorganisms. Spray it on every surface to limit the spread of germs and keep your commercial patrons safe.
The quaternary ammonium chloride blend is flexible and can provide results on both porous and non - porous surfaces.
It's also a potent deodorizer and mildew protectant. Unlike other products, RMR - 141 doesn't simply cover bad smells. It kills the bacteria that causes foul odors, leaving behind a neutral scent. When used in mold remediation, RMR - 141 can inhibit the growth of mold and mildew.
All you have to do is dilute the concentrate based on your needs. Apply it liberally, and you'll have a clean, bacteria - free surfaces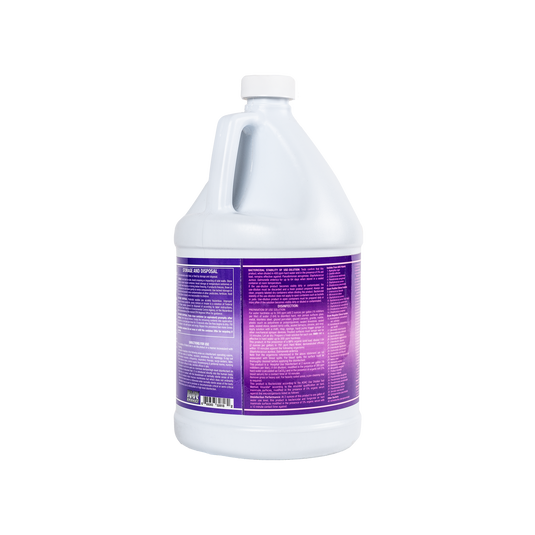 EPA Registered Disinfectant
RMR-141 Concentrate is an EPA registered disinfectant, sanitizer, and cleaner designed specifically for mold remediation contractors. RMR-141 Concentrate is designed to meet all your disinfecting, sanitizing, cleaning, and deodorizing needs. RMR-141 Concentrate is strong enough to be used in a hospital or medical environment, and has been specifically formulated to be used on both porous and non-porous materials. RMR-141 Concentrate is a powerful ready-to-use quaternary ammonium chloride blend, which is ideal for use when clean water is not readily available or for any situation where a ready-to-use formula is required.
Benefits of RMR-141
Disinfectant, Sanitizer, Cleaner, and Fungicide
To effectively treat mold surfaces, 1 gallon makes up to 64 gallons
Kills Target Cells at 98% Soil Load
EPA Registered Fungicide, Disinfectant, Mildewstat, Virucide & Cleaner
EPA Approved for porous and non-porous materials.
Registered for use in hospitals, schools, municipal buildings, public transit, households sewage & black water remediation.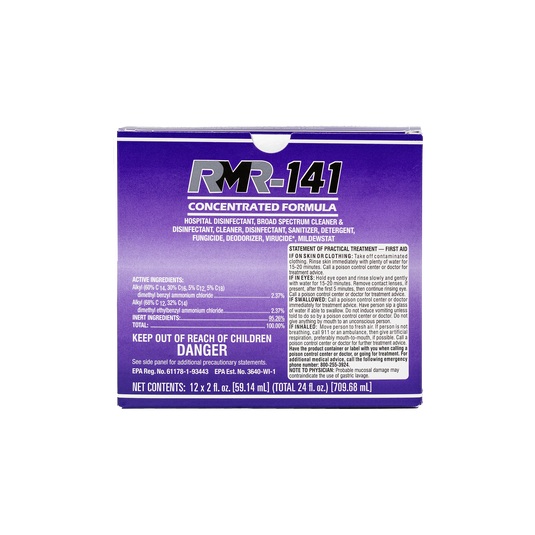 RMR-141 Disinfectant Concentrate
How To
During water damage remediation, dilute 2 to 4 ounces of RMR-141 per gallon of water allowing for the diluting effect of absorbed water within saturated materials. Remove filth or heavy soil along with any removable material. Saturate all affected areas with a sprayer before and after cleaning and extraction.
Carpets and other porous materials such as sub floors, drywall, trim and frame lumber, tackless strip and paneling: For water damage remediation from a clean water source, extract excess water. Test hidden area for color fastness. Dilute 2 to 4 ounces of RMR-141 per gallon of water. Apply directly with a sprayer to fully saturate affected materials. Roll, brush, or agitate into materials to allow the materials to remain damp for 10 minutes. Dry rapidly and thoroughly.
Watch the Video