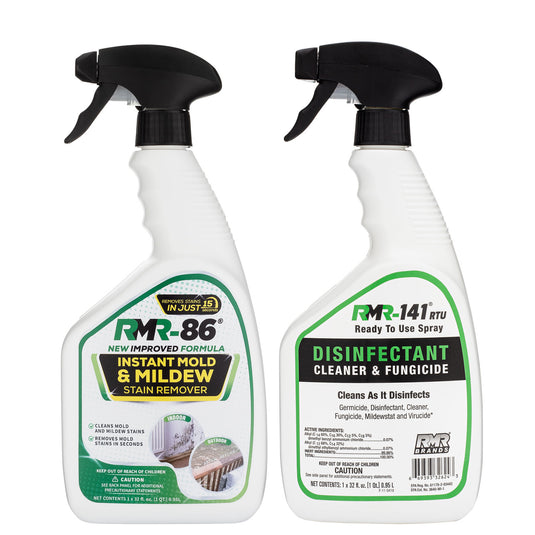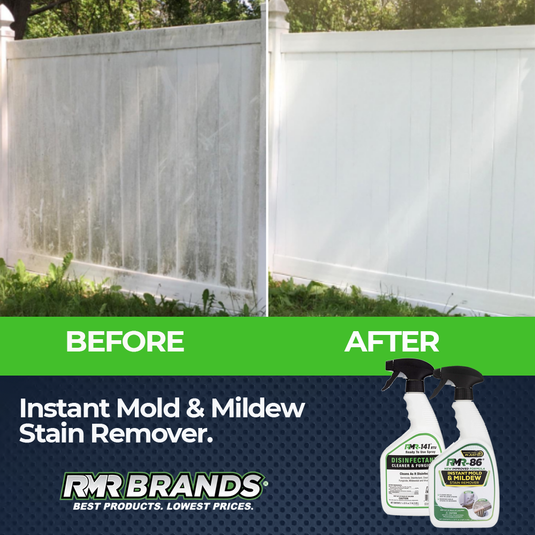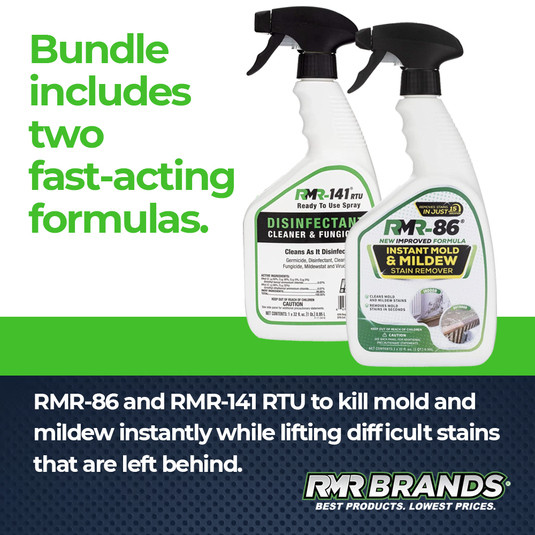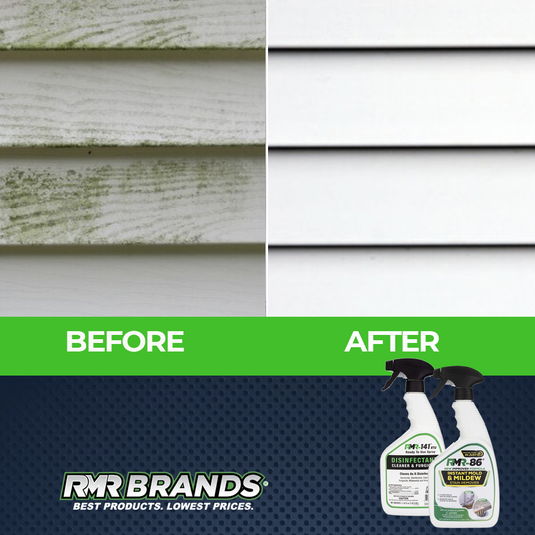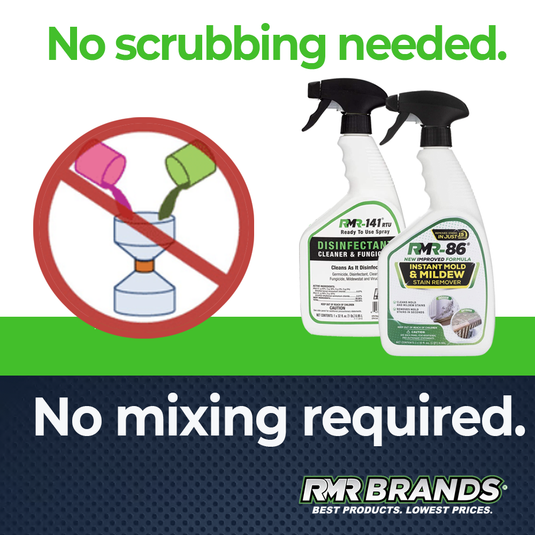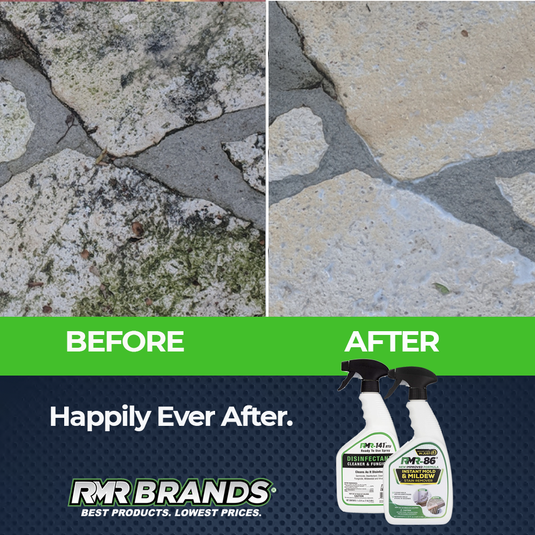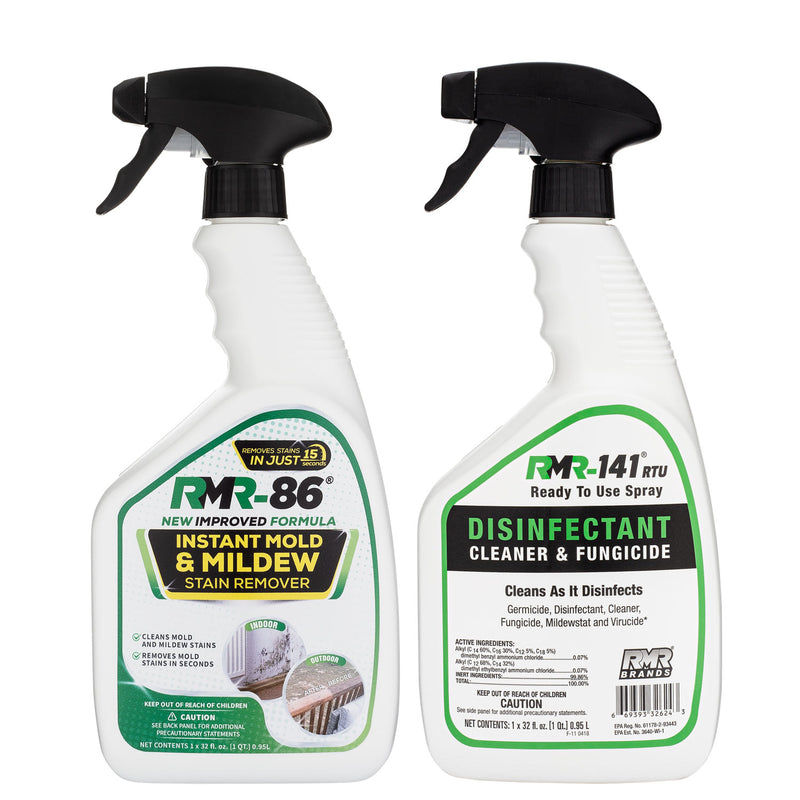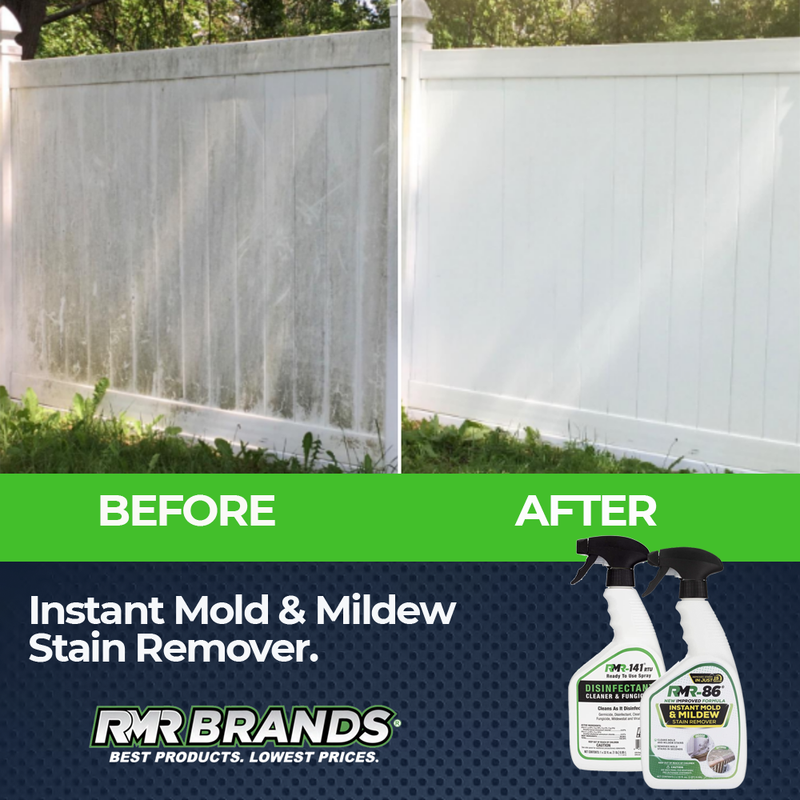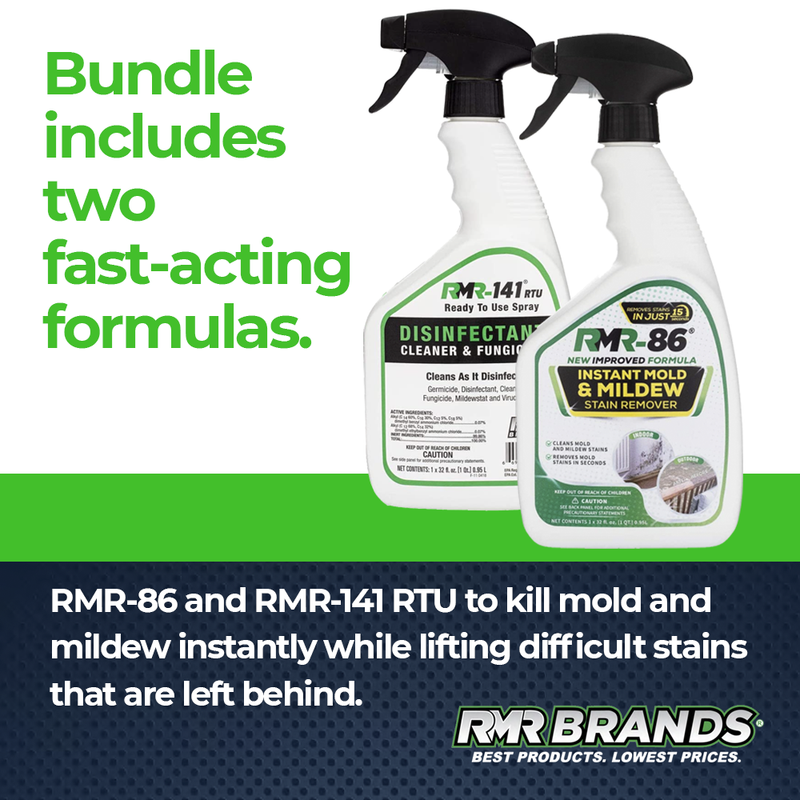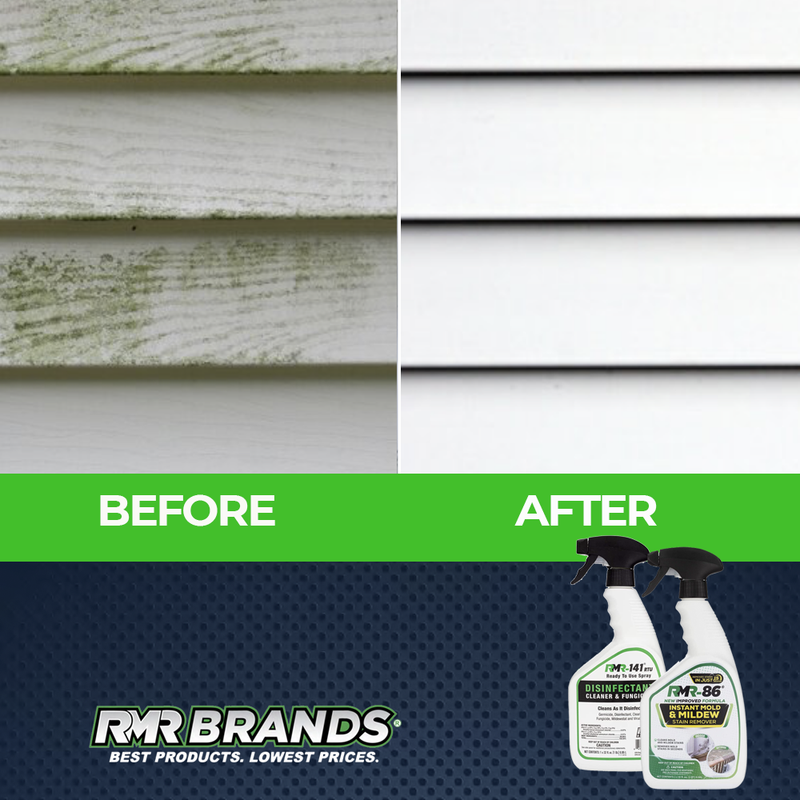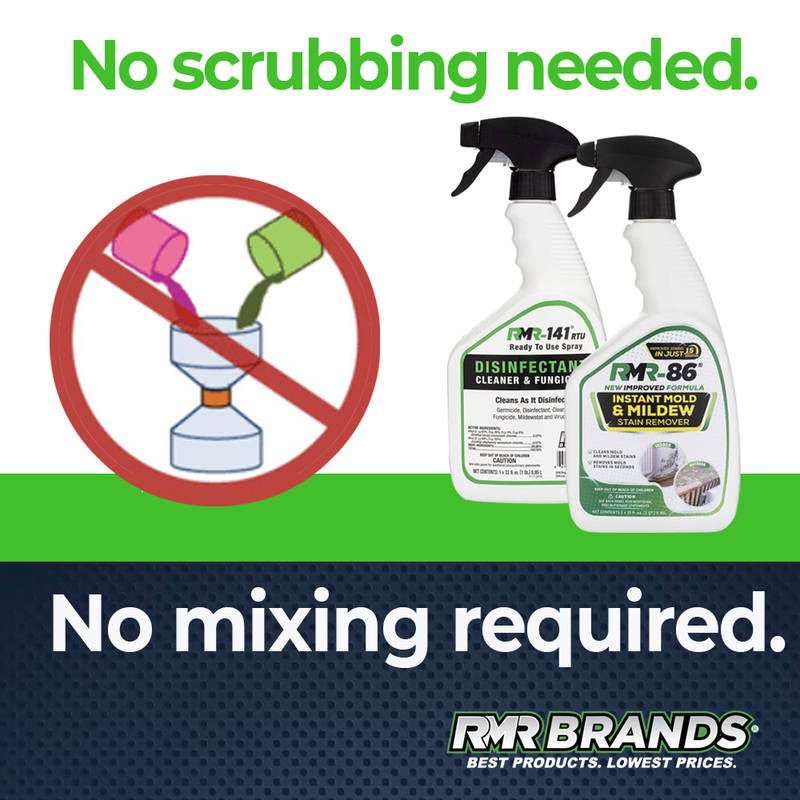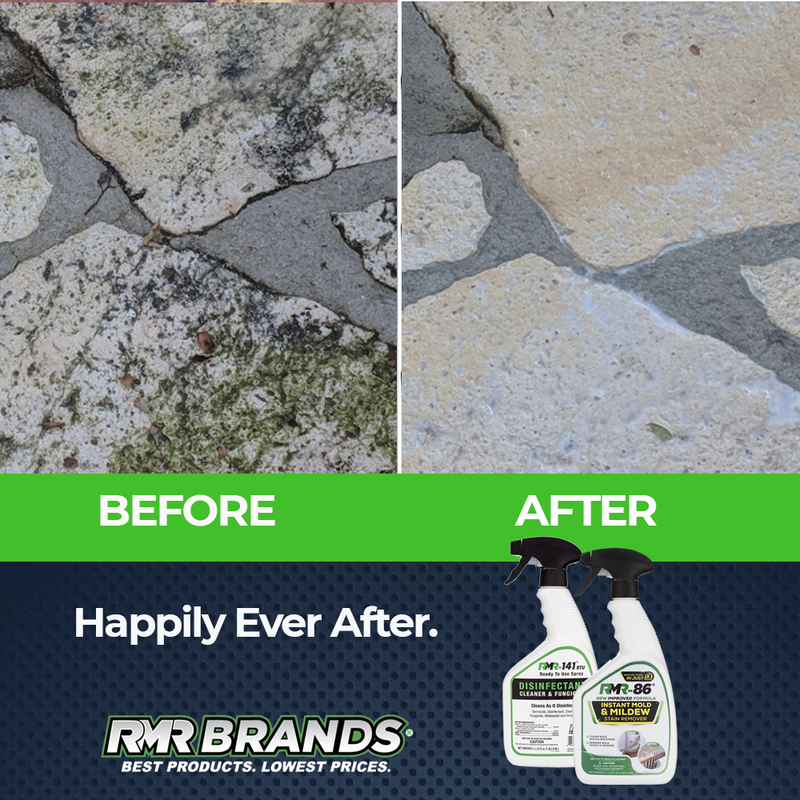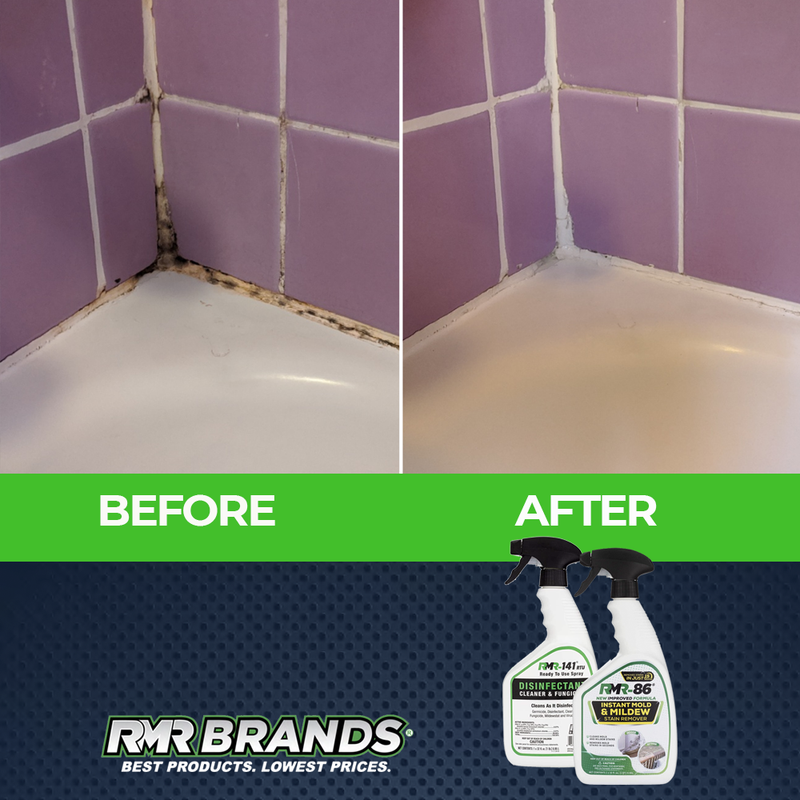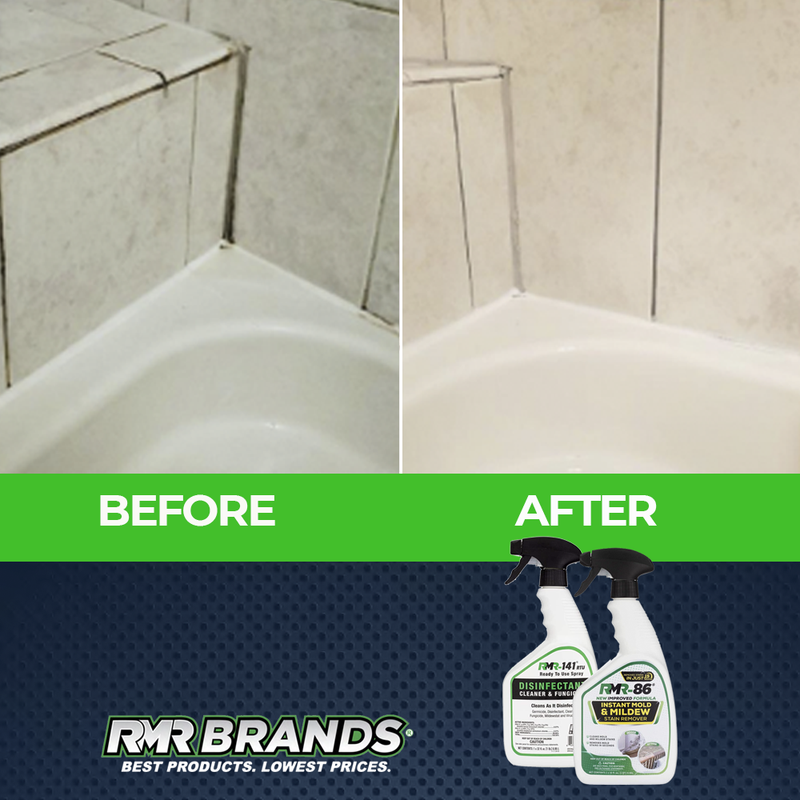 Complete Mold Killer & Remover DIY Bundle
Description
Get everything you need to tackle mold and mildew with zero hassle! The Complete Mold Killer & Remover DIY Bundle includes two fast - acting formulas that help you say goodbye to mold and mildew throughout your property.
With this DIY bundle, you get the following:

1 - 32 oz. Bottle of RMR - 86® ( Covers roughly 60 square feet)
1 - 32 oz. Bottle of RMR - 141 RTU (Covers approximately 125 square feet)
2 - Trigger sprayers
DEFEAT STAINS, CLEAN SURFACES
This two - in - one bundle will do things right the first time.
RMR - 86 is a powerful mold and mildew stain remover that requires no dilution or scrubbing. Its powerful ingredients get to work in seconds, lifting years - old stains in seconds. Make every surface look brand - new and forget musty odors that linger.
RMR - 141 RTU is an EPA - registered three - in - one disinfectant that can eradicate more than 141 microorganisms. From illness - causing viruses to bacteria and mold, this spray does it all! Not only does it disinfect both porous and non - porous surfaces, but it also cleans mold on the spot.
Treat grimy surfaces with RMR - 86 and use RMR - 141 RTU for protection to stop mold in its tracks. This Complete Mold Killer & Stain Remover is your secret weapon against mildew. Use it on everything from bathroom tiles and fiberglass to concrete or wooden decks, and bring new life to every surface.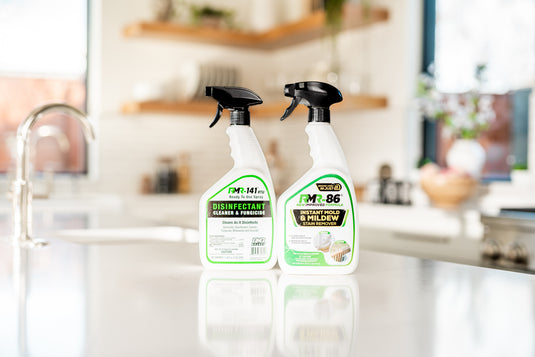 Kill. Clean. Prevent
RMR-86® is a revolutionary new mold stain & mildew stain remover. RMR-141 RTU kills mold and mildew. Together they can be used on Wood, Concrete, Drywall, Tile & Grout, Fiberglass, Vinyl, and More. Works great all-around your home!
Twice The Power
With this bundle, you can use RMR-86 to eliminate stubborn mold and mildew stains in just 15 seconds! Then use the RMR-141 for powerful protection against illness-causing fungus. This bundle is the ultimate solution for a mold and fungus-free home!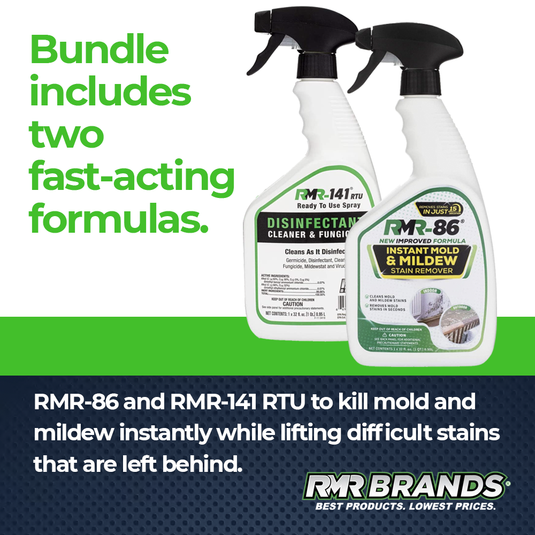 Complete Mold Killer & Remover DIY Bundle
How To
Step 1: Mold Stain Removal
Shake well before use, and spray RMR-86 until the area is thoroughly saturated. Let stand until the stain disappears. (in cases involving tougher stains, a second application may be needed)
Step 2: Kill Mold
After allowing RMR-86 Mold Stain Remover to dry, spray RMR-141 RTU Mold Killer on the affected area until saturated. Allow to air dry, or sit on the surface for at least 10 minutes.
*Always pre-test surfaces before using our products.
Watch the Video