RMR PRO-Xtreme Odor Eliminator
Description
Remove foul smells at their source with the RMR PRO - Xtreme Odor Eliminator.
Most products out there do nothing more than mask bad smells. But what's worse: Dealing with awful odors or breathing in horrible smells mixed with cheap fragrances?
The RMR PRO - Xtreme Odor Eliminate does so much more than just mask smells. It permanently eliminates them!
Our powerful solution can serve all your commercial needs. It's safe to use and doesn't leave any fragrance or aroma behind. Instead, it neutralizes odor - causing molecules by encapsulating and eliminating them. The result is neutral, crisp air with no trace of whatever odor used to linger.
This product works fast. The encapsulation process is instant and irreversible. Spray the formula throughout the air and wait one or two minutes. Before you know it, you'll be breathing easy!
Multipurpose Use: You can use RMR Pro - Xtreme Odor Eliminator anywhere. It can get rid of simple odors from public bathrooms, or tackle challenging smells like ci garette smoke. The formula is powerful enough to handle it all.
Eliminate, Not Mask: Our odor eliminator wipes the air clean by encapsulating odor - causing bacteria and molecules. It's designed to leave the air smelling crisp and fresh.
Safe and Non - Toxic Formula: The RMR PRO - Xtreme Odor Eliminator is safe to use in any commercial space. It's non - toxic, non - allergenic and completely biodegradable.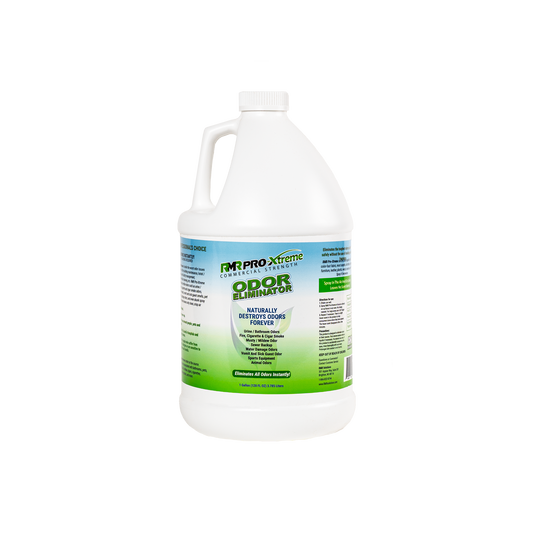 The Best Odor Remover On The Market
RMR PRO-Xtreme is a new technology platform in odor control for your commercial needs. When you spray RMR PRO-Xtreme on the odor source, it encapsulates and destroys the odor-causing molecule. Instead of masking the odor with fragrances or perfumes it eliminates them forever. The bonding process happens very quickly and it's irreversible. So any odor that RMR PRO-Xtreme touches is gone forever and will never return.
Non-Scented Odor Eliminator
Commercial Strength.
Tackles the worst odor.
No Masking or Cover-Up Fragrances.
It Permanently Eliminates All Existing Odor.
Spray in the air and on surfaces in any room.
Leaves No Scent Behind.
Non-toxic, Non-allergenic and Biodegradable.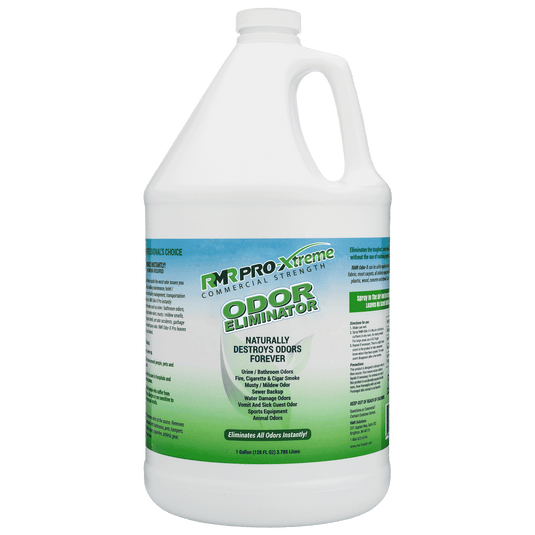 RMR PRO-Xtreme Odor Eliminator
How To
RMR-Xtreme Odor Eliminator is the superior, colorless, all-natural, plant-based odor-eliminating formulation that completely eliminates odors at their source. Fast. Once and for all. Use it in bathrooms, cabinets, storage areas, stables, kennels, barns, and cages, laboratories, laundries, locker rooms, gyms, kitchens, and appliances, drains and sinks, basements, attics, garages, boats and marine areas, coolers, on outdoor canvas and vinyl, carpets and rugs, upholstery in the house, boat, car or RV, etc. Use it on walls, wood, and HVAC systems to eliminate odors caused by pets, smoke, and decay. RMR-Xtreme Odor Eliminators 100% all-natural plant-based formula means you can feel safe using it around children and pets. And because RMR-Xtreme Odor Eliminator is chemical and fragrance-free it's safe for individuals with allergies, asthma, and compromised breathing.
Identify location of odor source
Spray directly on the odor causing source
No need to rinse. Repeat if necessary.
Watch the Video