RMR 2-in-1 Glass and Surface Cleaner Plus Repellent, Streak-Free Multi-Surface Treatment
Description
Get a streak - free shine on windows, mirrors and more with the RMR 2 - in - 1 Glass and Surface Cleaner.
Our premium formula does more than remove grime on shiny surfaces. It's a multipurpose product that you can use on everything from appliances and countertops to metal hardware an d furniture. Get a quick and easily clean in minutes without harsh acids or ammonia. We formulated this product to be tough on messes while remaining safe for you to use on virtually any surface in the home.
But it doesn't stop there.
ENJOY MORE TIME BETWEEN CLEANINGS
The 2 - in - 1 cleaner also acts as a mess repellant! Tackle grime that's already there while creating a protective barrier to prevent new messes from forming.
The dual - action glass and surface cleaner creates a streak - free shine and crystal - cl ear finish while stopping water spots, dirt and oils from accumulating. It's highly effective, helping you spend less time cleaning and more time enjoying smudge - free surfaces!
High - Grade Dual - Action Formula: Don't stop with a simple cleaning. The RMR 2 - i n - 1 Glass and Surface Cleaner will take care of caked - on messes while protecting surfaces from water buildup, smudges and more.
Flexible Enough to Use Everywhere: Use our surface cleaner on glass, countertops, electronics, tables and much more.
Safe and Made in the USA: The RMR Glass and Surface Cleaner has a safe formula with high - quality ingredients. It was developed by cleaning experts and made in the USA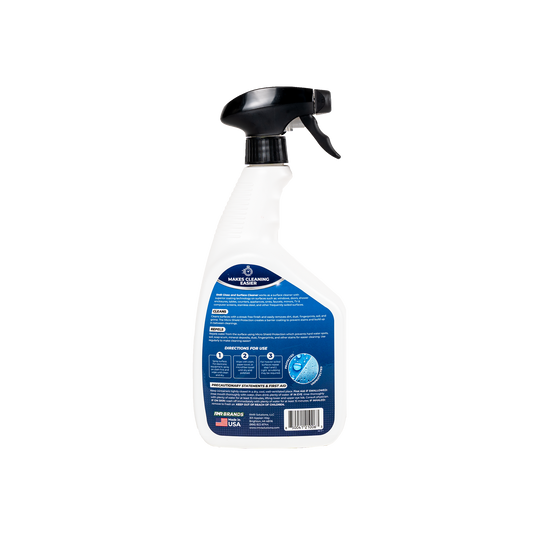 Upgrade Your Clean With This Powerful 2-in-1 Formula
It's easy to get stuck in a loop where cleaning becomes an endless task. With RMR's 2-in-1 Glass and Surface Cleaner Plus Repellent, you can prevent future messes while tackling the existing ones. Our dual-action formula removes streaks, marks, dirt, and debris from a wide variety of surfaces while applying a protective coating that repels water and soil. This convenient multi-purpose spray can be misted onto surfaces and wiped clean with a paper towel or microfiber cloth to reveal bright, sparkling clean surfaces in seconds.
A Safe & Effective Multipurpose Cleaner
At RMR, we create powerful solutions to everyday problems. Our industrial-strength cleaning products work well anywhere from the office to your home, removing dirt, debris, and tough, caked-on messes and leaving behind fresh, clean, smudge-free surfaces. For quality products and great value, try RMR 2-in-1 Glass and Surface Cleaner Plus Repellent, the best dual-action cleaning and repellant product on the market.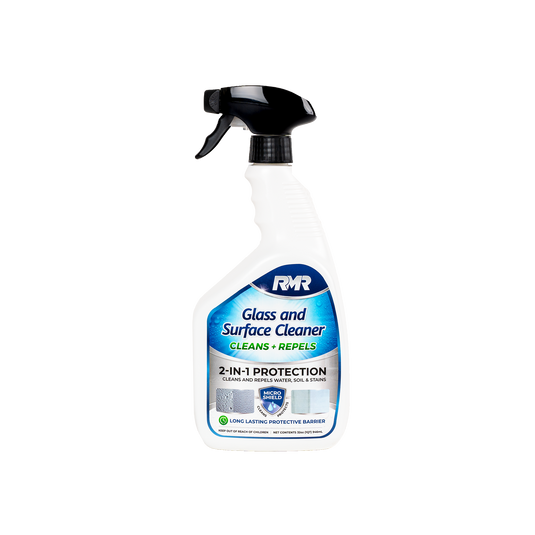 RMR 2-in-1 Glass and Surface Cleaner Plus Repellent, Streak-Free Multi-Surface Treatment
How To
This versatile cleaner plus repellant can be used throughout your home, from the kitchen to the bathroom and beyond. It creates a crystal-clear, invisible finish on glass and mirrors while preventing streaks and water spots from forming. This heavy-duty spray can be used to clean and protect doors, shower enclosures, tile, tables, counters, appliances, bathroom sinks, faucets, stainless steel, and even TV and computer screens. The powerful, fast-acting formula is highly effective, easy to use, and safe enough to use as a daily household cleaner. It contains no harsh acids or alkalis, phosphates, ammonia, glycol ethers, terpenes, hydrocarbon propellants, CFC's, quaternary ammonium compounds, or chlorine bleach.
Spray surface. For electronic equipment, spray on cloth first and wipe until clean and dry.
Wipe with a cloth, paper towel, or microfiber towel until completely dry and polished. Note: this has a hydrophobic coating on it that does have to be wiped/polished until completely dry.
For heavier soiled surfaces, repeat steps 1 and 2. Light scrubbing may be required.
Watch the Video