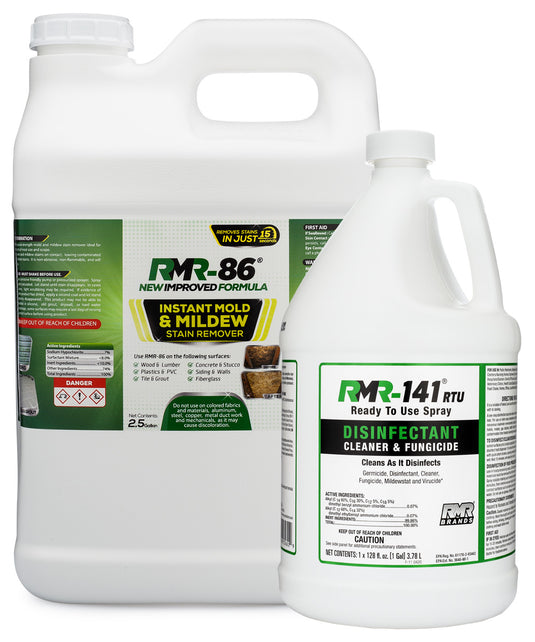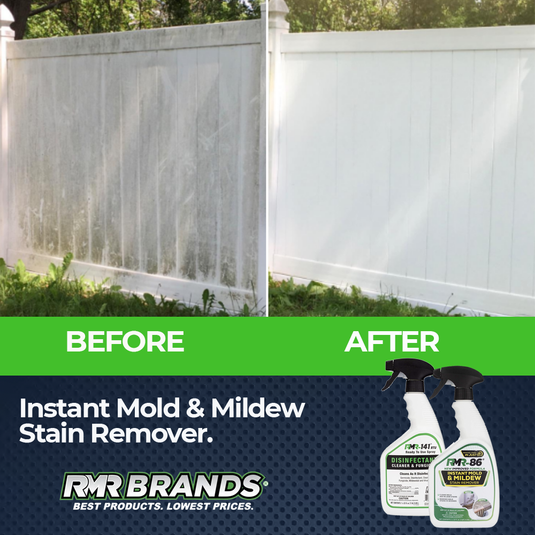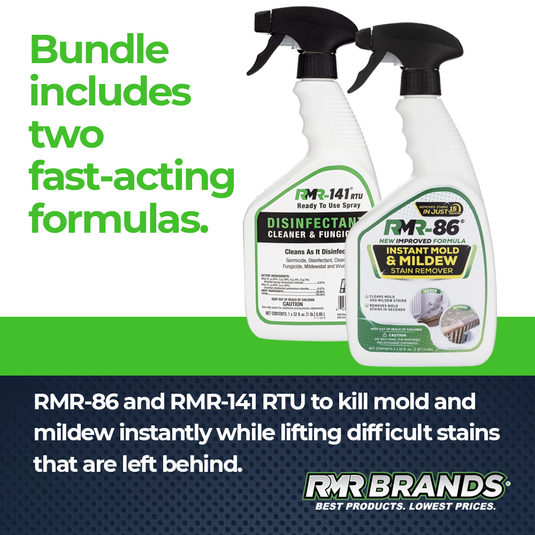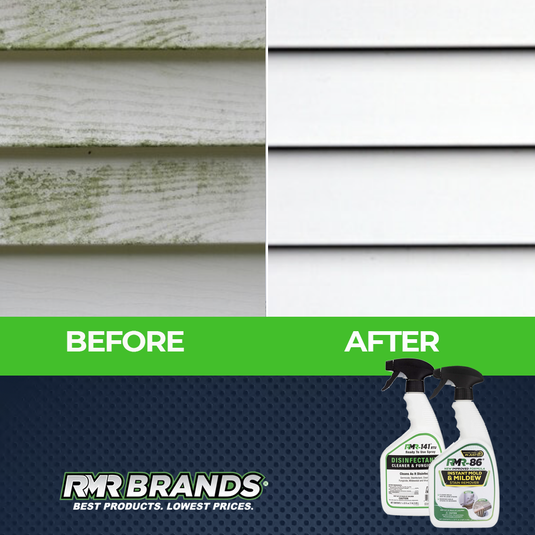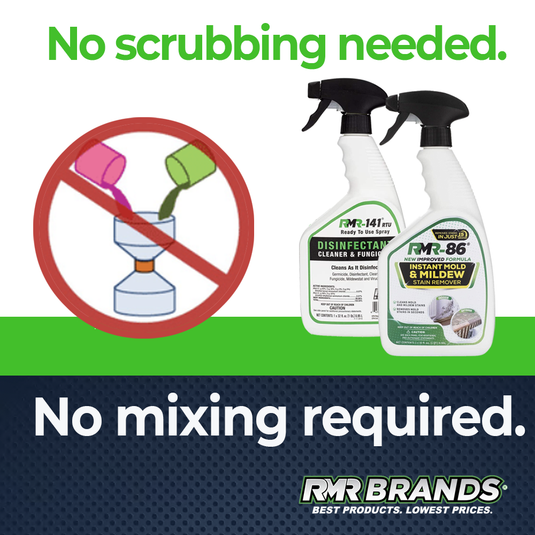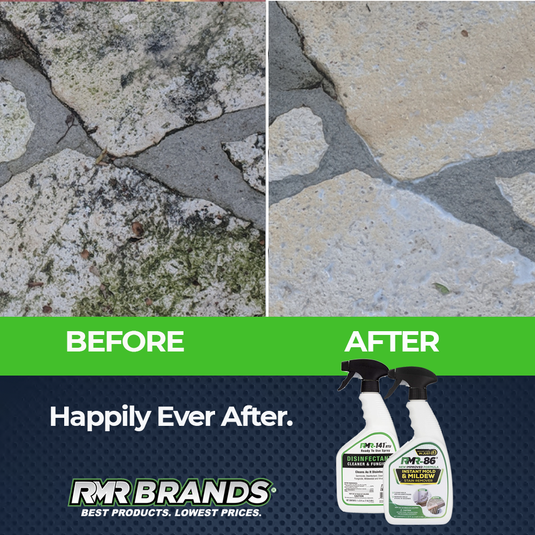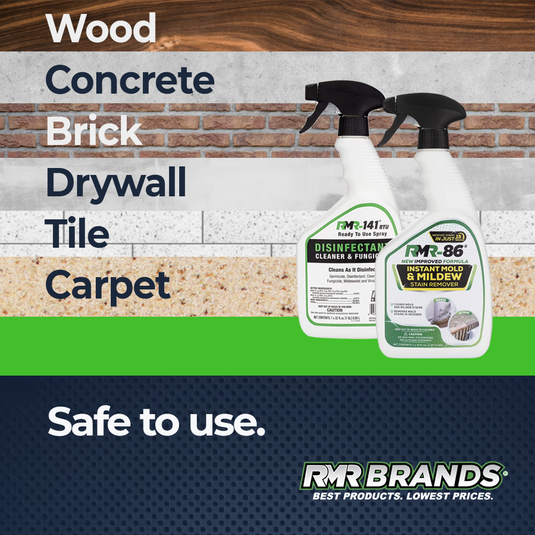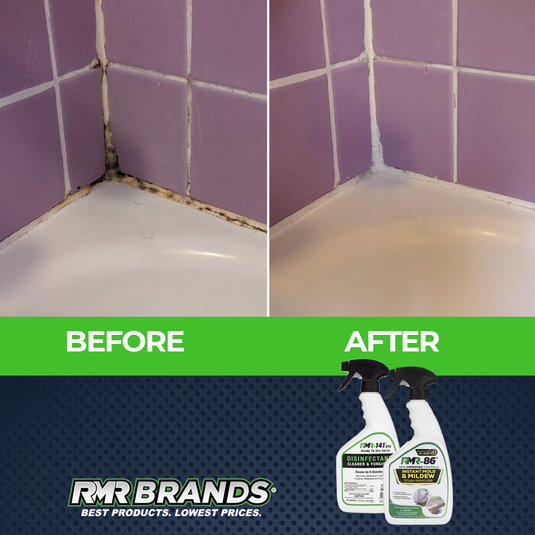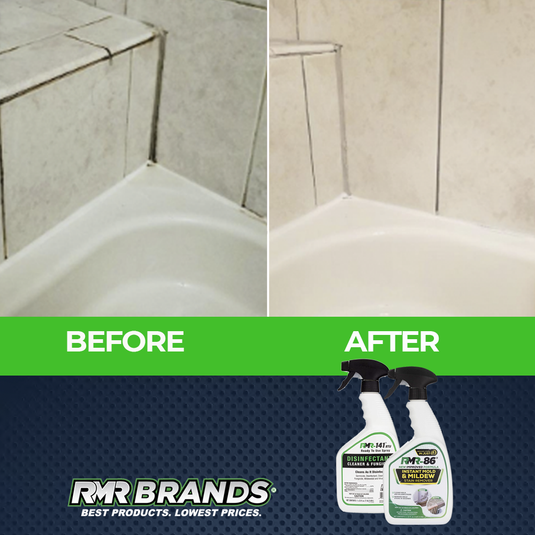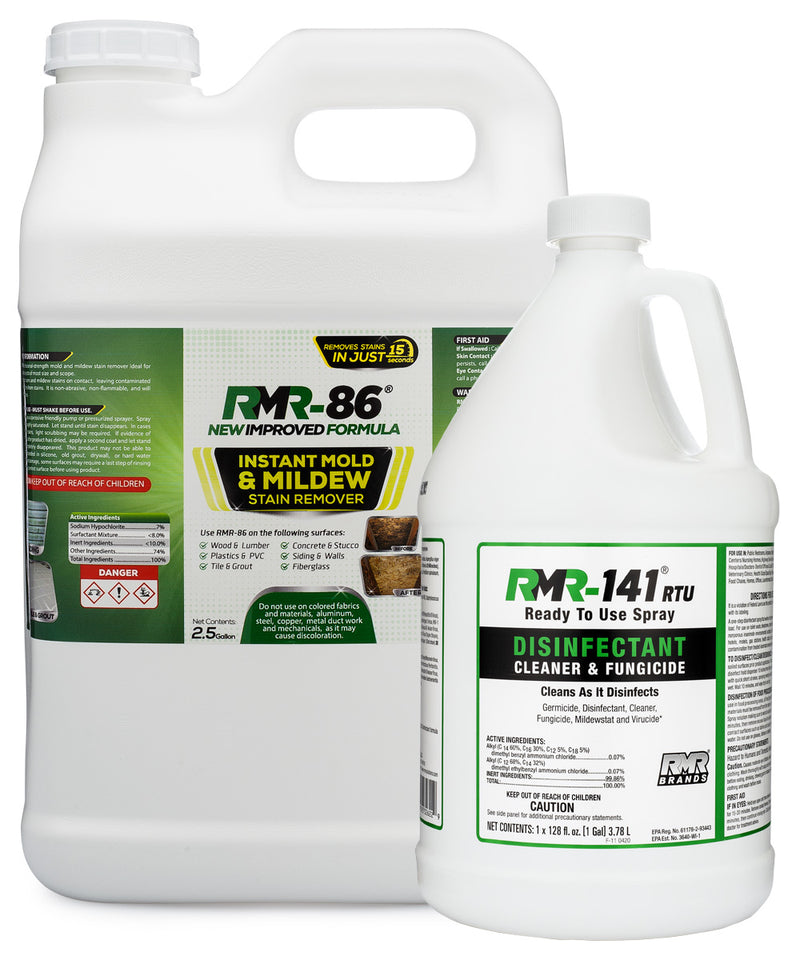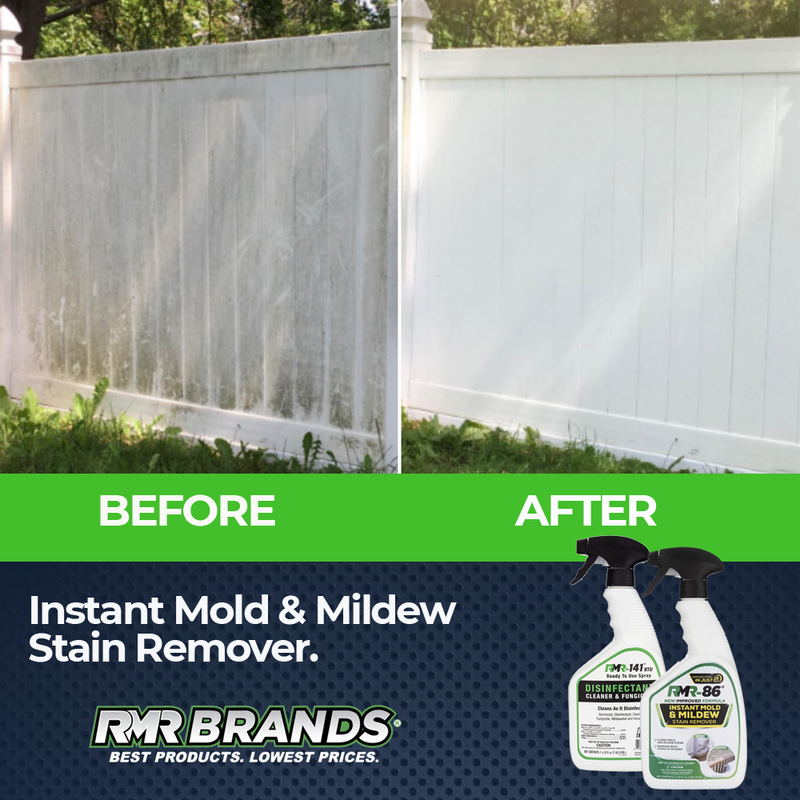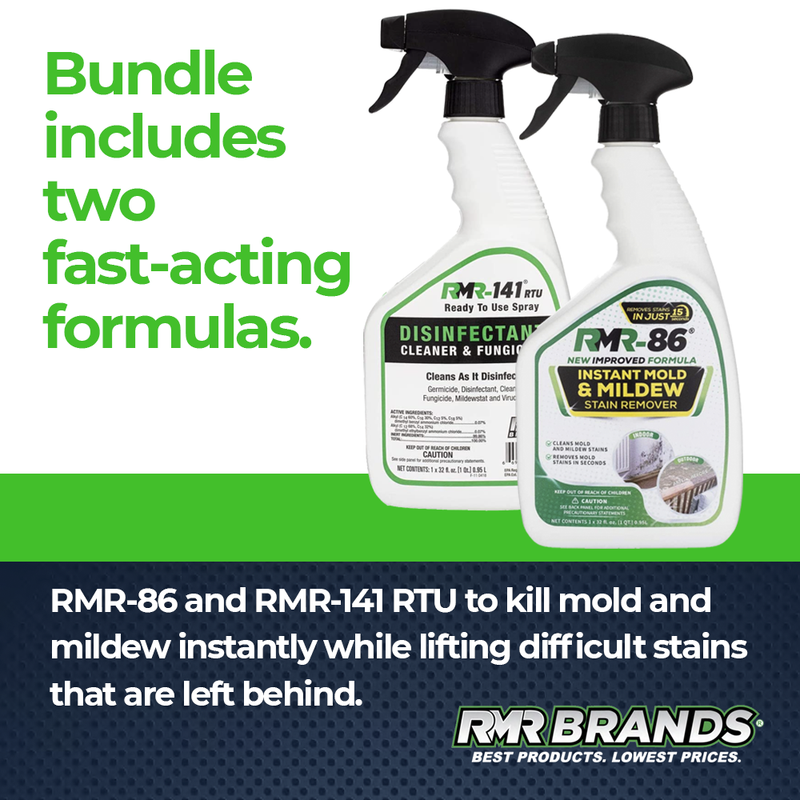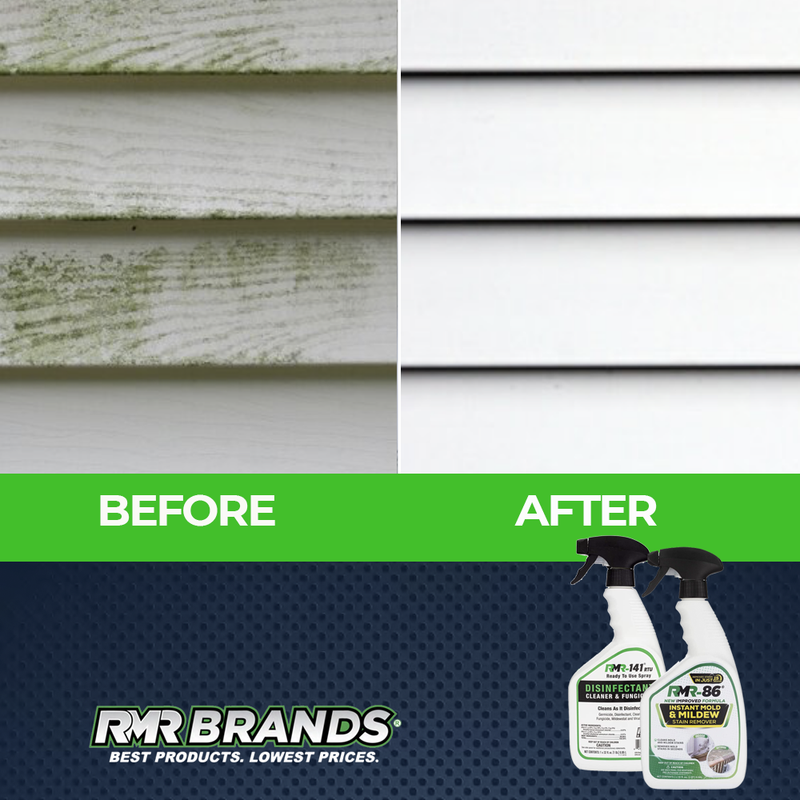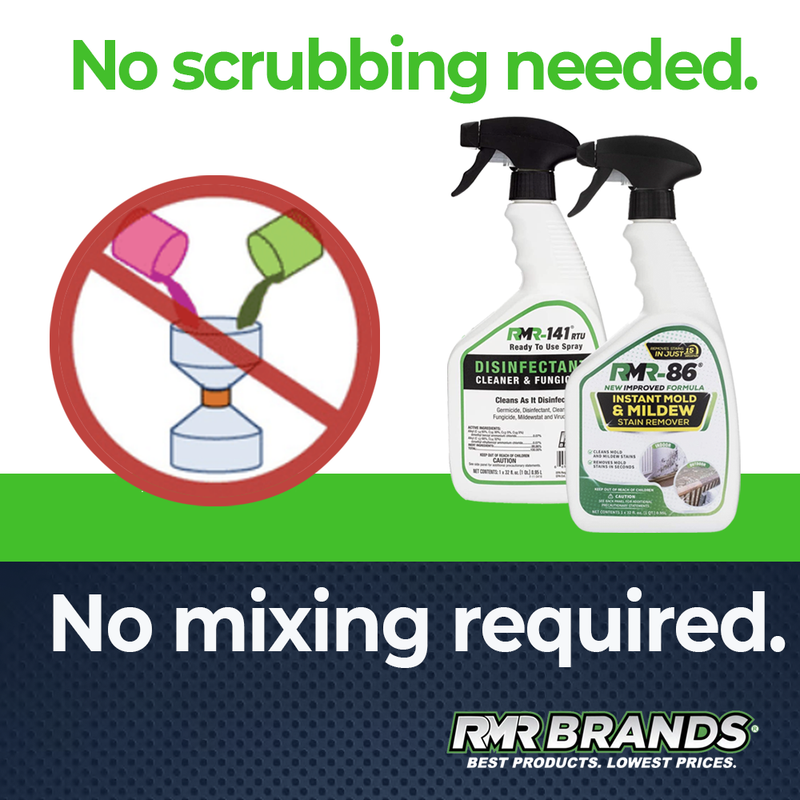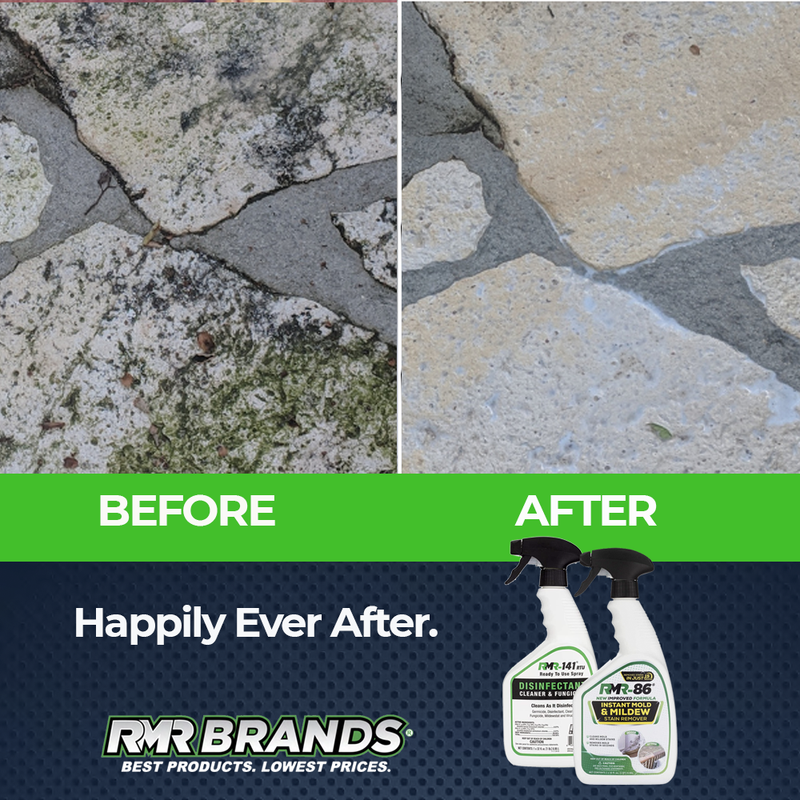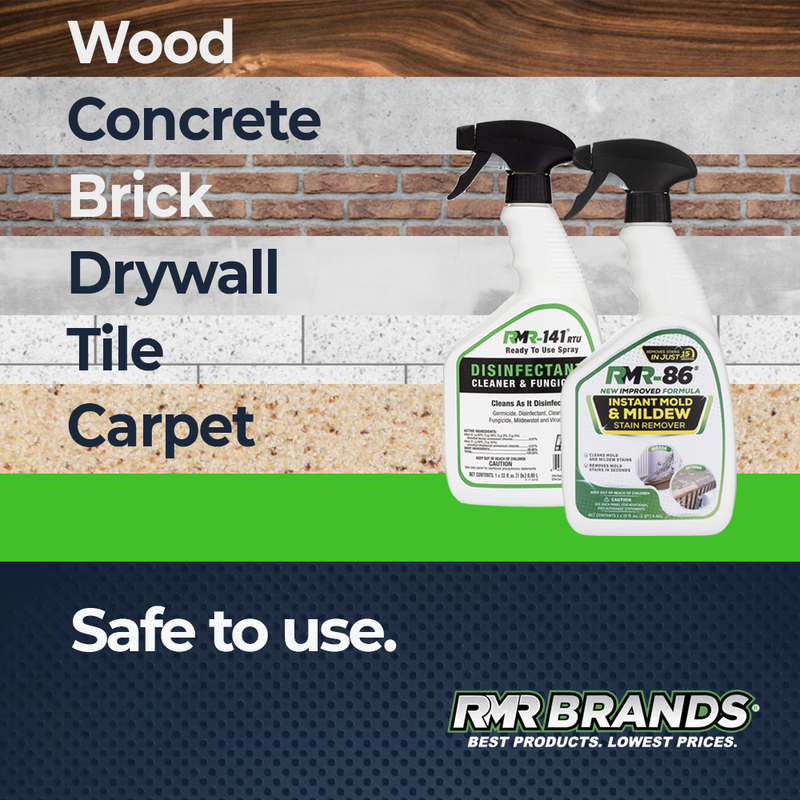 Mold Kill, Clean and Prevent Starter Bundle
Description
CONQUER MOLD AND MILDEW ISSUES WITH TWO POWERFUL FORMULAS
RMR-86 is an industry-leading mold and mild ew stain remover. It can lift stubborn stains in seconds, all without tools or uncomfortable scrubbing. Shake well and apply it liberally to surfaces you cleaned with RMR-141 RTU. Watch as deep-setting discoloration disappear, and musky odors fade to nothing.
RMR-141 RTU is a three-in-one disinfectant and cleaner. It's a broad-spectrum product that kills more than 141 microorganisms. Bleach-free and non-abrasive, this EPA-registered product is safe enough to use on porous and non-porous surfaces. Use it as step one to kill and clean mold.
The last step is to apply another fine misting of RMR-141 RTU after your surfaces dry.
Use the starter bundle on wood, concrete, tile, vinyl, fiberglass an d more to make every surface around your property look cleaner than ever!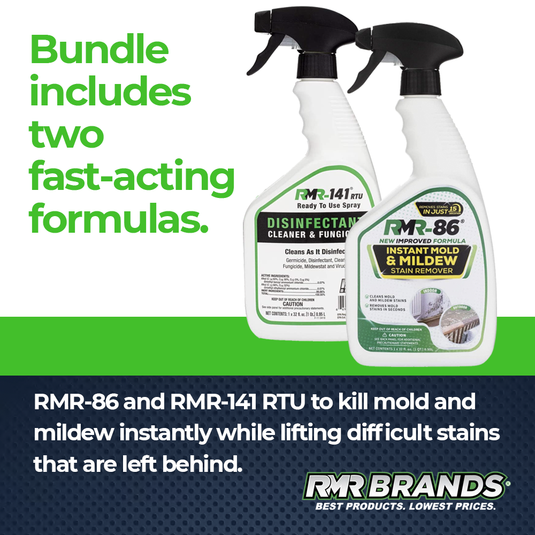 All-Purpose Clean
RMR-86® is the revolutionary new mold stain remover that is cutting labor time and costs in half for contractors across the country. No more sanding or scrub brushing. Just simply spray on any hard surface and watch the mold stains disappear in 15 seconds. It's our powerful bleach-based patent pending formula for fast mold stain removal all around your Home. Works amazing on Boats too. Buy the bundle today and save even more. RMR-86® has superior penetration into porous surfaces such as Wood, Concrete, Drywall, Tile & Grout, Fiberglass, Vinyl, and More.
Stop Problems when they Happen
RMR-141 Mold Killer is an EPA registered (3-in-1) cleaner designed to KILL and CLEAN mold & mildew. It's bleach-free, phosphate free, non-abrasive disinfectant mold killer that can be used on most washable surfaces.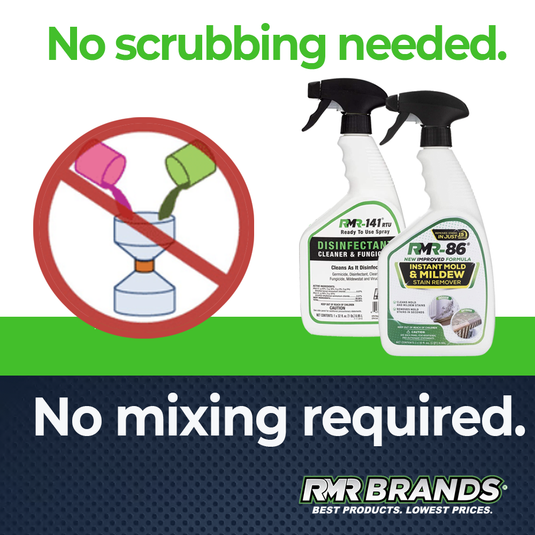 Mold Kill, Clean and Prevent Starter Bundle
How To
Step 1: Stain Removal:
Shake well before use, and spray RMR-86® until area is thoroughly saturated. Let stand until stain disappears. (in cases involving tougher stains, a second application may be needed)
Step 2: Kill & Clean:
Spray RMR-141 RTU liberally to affected area and allow to dry.
*Always pre-test surfaces before using our products.
Watch the Video