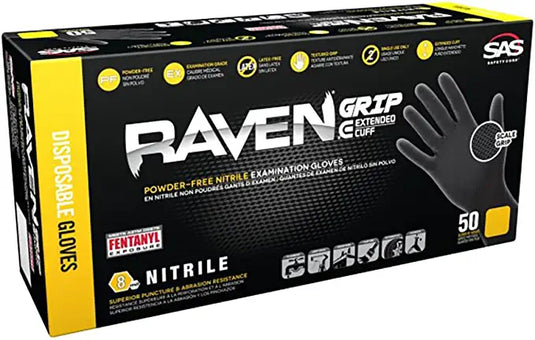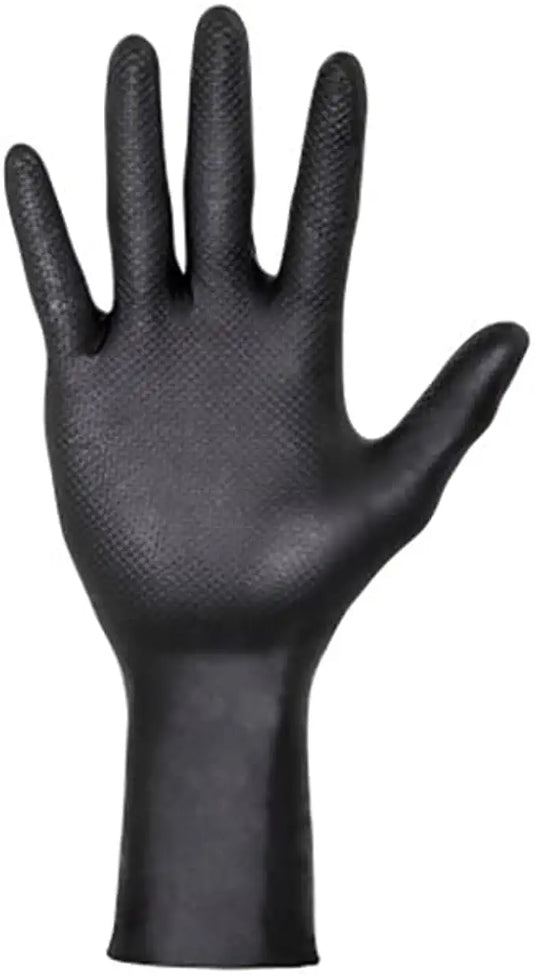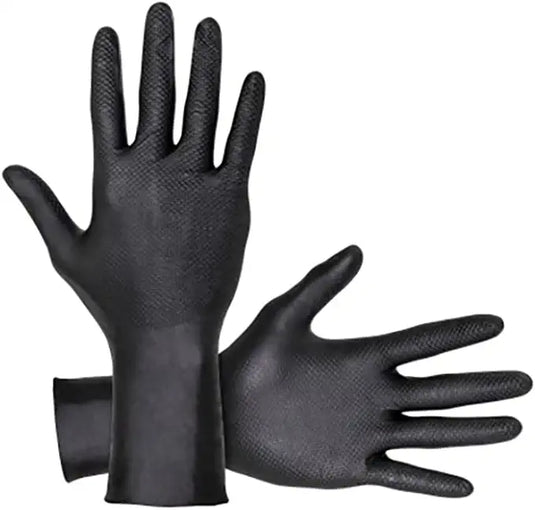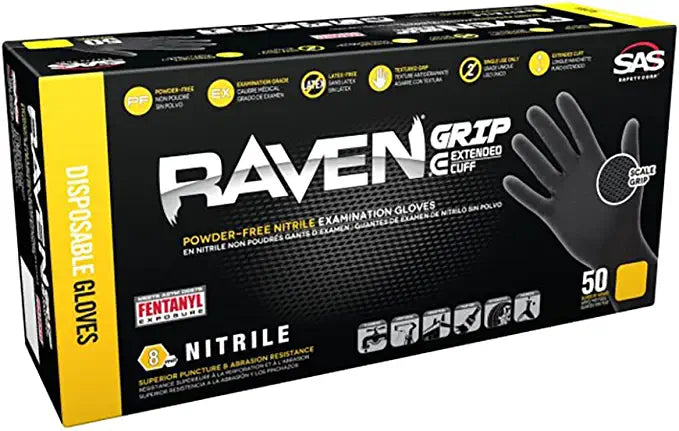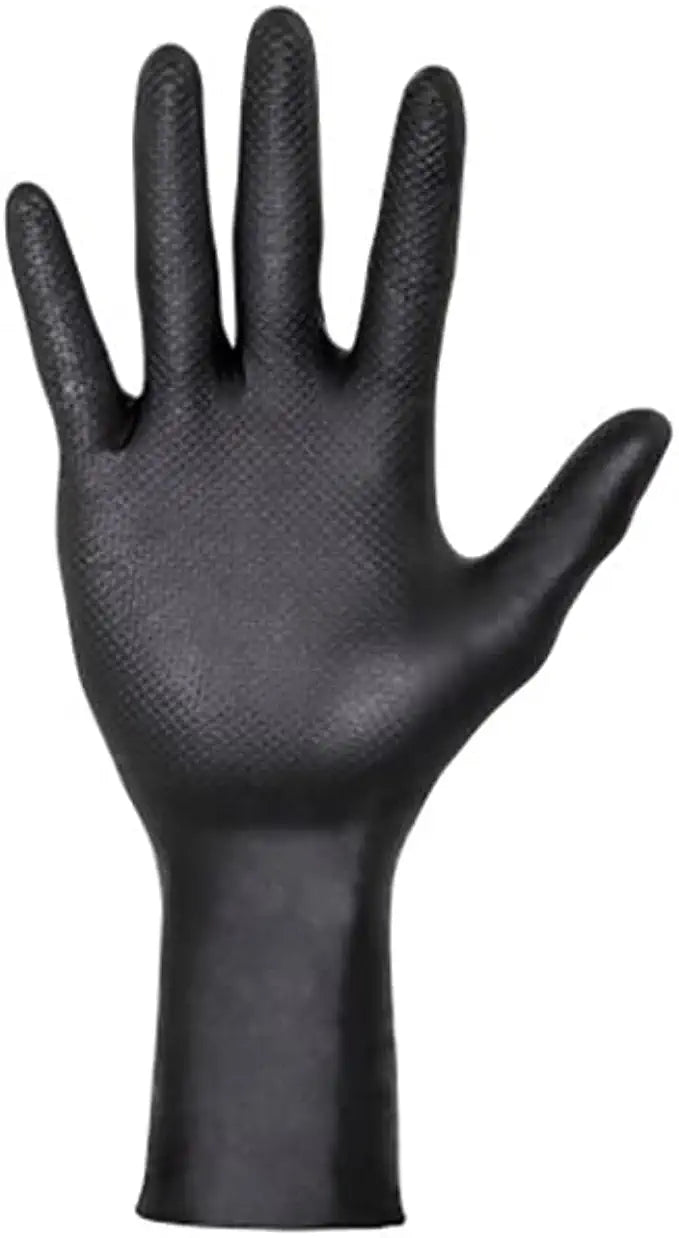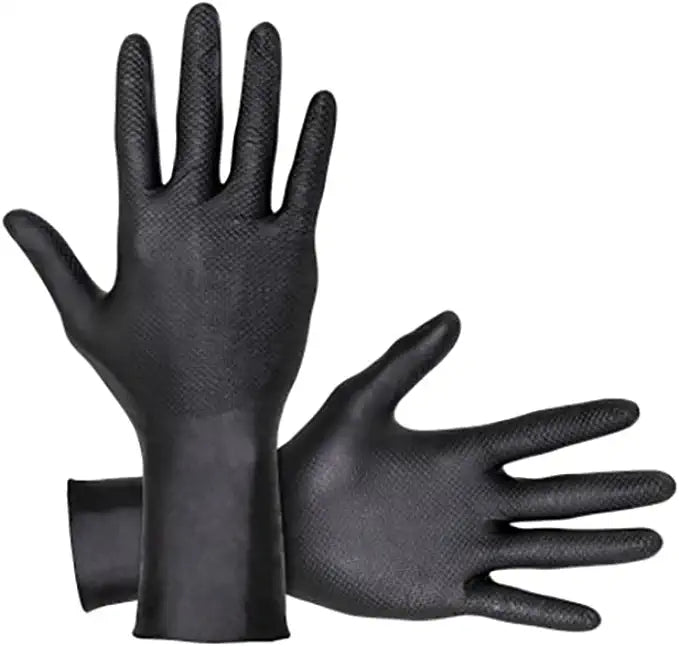 Raven Grip Nitrile Disposable Gloves, Extended Cuff, 8 Mil-Thick, 12-Inch Length, 50-Count Box, Black, SAS Safety Corp
Description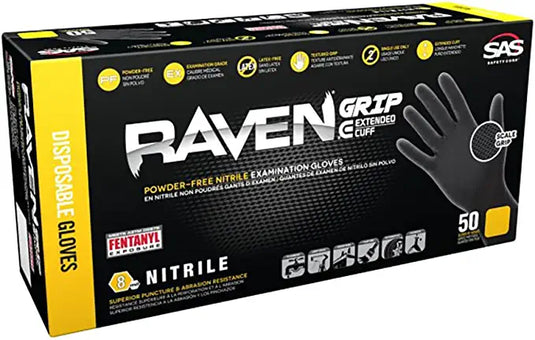 When Protection Counts
If you work with your hands, you know that not all disposable gloves are created equal. When protection matters most, you can count on Raven Grip Nitrile Gloves to keep you safe and comfortable. Our 8 mil-thick large extended cuff gloves are designed to perform even the trickiest of tasks with precision. The extended 12-inch cuff keeps your hands, wrists, and lower arms covered without slipping, sliding, or loosening during use.
Superior Strength and Dexterity
These exam-grade gloves are made with a proprietary blend of durable materials that are puncture and abrasion-resistant and safe for medical, sanitation, painting, plumbing, automotive, and general purpose use. They offer heavy-duty protection against damage from paint, harsh chemicals, oils, and stains, and pass ASTM D6978 to handle Fentanyl substances. Our gloves feature a unique design that keeps you moving during busy days with a beaded cuff for quick insertion and removal. The sleek fit and textured scale grip provides excellent dexterity and comfort when using tools, medical supplies, and equipment.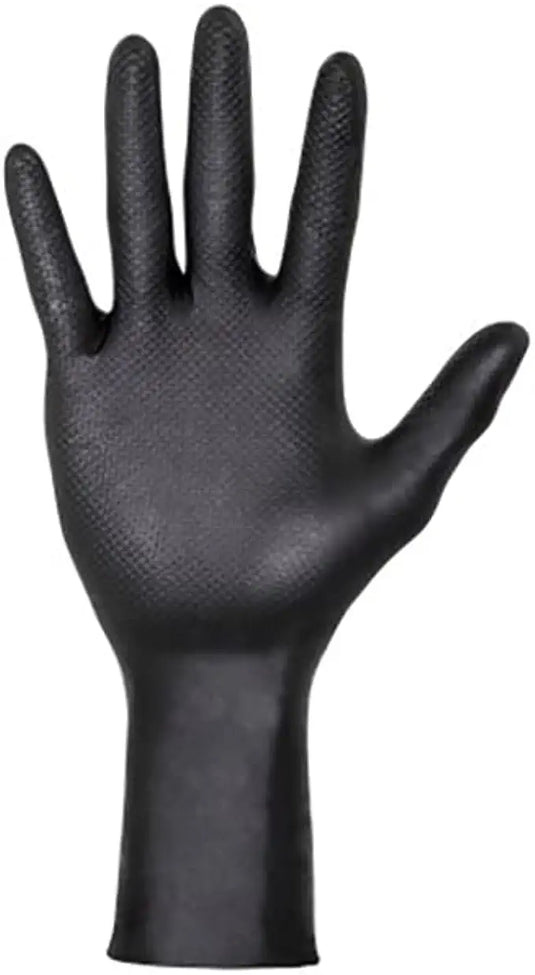 Raven Grip Nitrile Disposable Gloves, Extended Cuff, 8 Mil-Thick, 12-Inch Length, 50-Count Box, Black, SAS Safety Corp
How To
SAS Safety Corp's bulk 50-count box of single-use gloves go on and stay put to get the job done without tearing or ripping during use. Unlike traditional latex gloves, this powder-free nitrile blend does not cause allergic reactions in most people. The enhanced gripping power and water-resistant material is ideal for cleaning, food prep, hairdressing, cooking, car maintenance, tattooing, working with electronics, and a wide variety of other materials. These versatile gloves are safe for most applications and contain no Prop 65 regulated contaminants.
Watch the Video