RMR-141 RTU Disinfectant
Description
Clean, disinfect and deodorize with a single product!
The RMR - 141 RTU disinfectant is a multipurpose spray that doubles as a cleaner and fungicide. It's an EPA - registered product that kills more than 141 different microorganisms. Keep germs at bay and protect commercial patrons. Perfect for everything from hospitals to restaurants, this positively charged disinfectant will eradicate 99.9 percent of common bacteria and viruses. That includes SARS - COV - 2, the virus that causes COVID - 19. It even eliminates mold and mildew, giving you plenty of ways to use RMR - 141 RTU.
A CLEANER, DEODORIZER AND FUNGICIDE THAT WORKS
You can use RMR - 141 RTU on most sur faces. It's effective on porous and non - porous materials, making it the go - to for everything from hospital sanitization to mold remediation. Best of all, you don't have to do any laborious scrubbing or wiping.
Whether you use it to eliminate odors or prot ect against mold and mildew, the only step is applying the solution liberally. Allow it to air dry and rest easy knowing that your treated surface is fresh, clean and safe.
EPA - Registered Disinfectant: Our formula is tried and tested. It delivers results and is effective against a broad spectrum of microorganisms. From odor - causing bacteria to viruses that can make commercial patrons sick, germs are no match for RMR - 141 RTU.
Tackle Mold and Mildew: Kill mold and mildew without the back - breaking work. The formula quickly kills and disinfects while providing long - term protection against future problems.
Effective on Most Surfaces: RMR - 141 RTU is versatile enough for most surfa ces, making it a universally good choice for cleaning and disinfecting.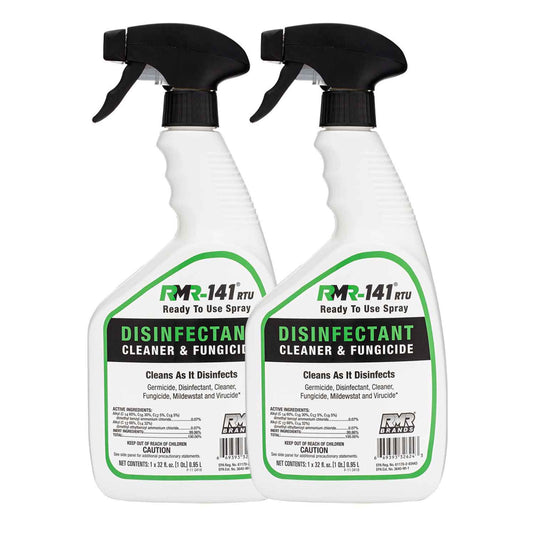 Powerful Cleaning and Deodorizing
RMR-141 RTU is an all-in-one product for treating wood framing, carpets, and other porous and nonporous surfaces as well as part of a complete mold remediation project. This is your go-to product for water damage restoration, sewer cleanup, mold removal, disinfecting porous surfaces and deodorizing. It's the only ready-to-use disinfectant that kills over 100 microorganisms!
Ready to Use
RMR-141 RTU Disinfectant is an EPA registered fungicide, sanitizer, cleaner and deodorizer. It kills mold and inhibits the growth of mold and mildew. Kills 99.9% of household bacteria and odor-causing bacteria. It is effective against a broad spectrum of bacteria, is fungicidal, and inhibits odors when used as directed. It delivers non-acid cleaning performance in an economical ready-to-use bottle.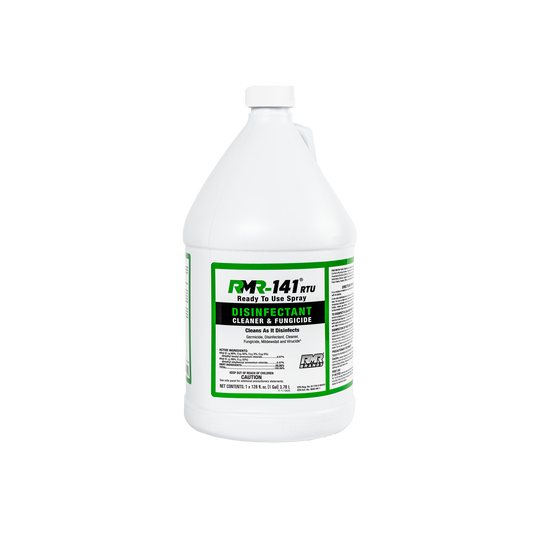 RMR-141 RTU Disinfectant
How To
DISINFECT/CLEAN/DEODORIZE: Preclean all heavily soiled surfaces prior to product application. To clean, deodorize, and disinfect apply product with a sprayer, cloth, sponge or other suitable applicator until surface is thoroughly wet. Maintain wetness for 10 minutes, and wipe dry or air dry. Do not use on glasses, dishes or utensils.
FUNGICIDAL: When treating surfaces to kill most mold & mildew, spray solution on surfaces, making sure to thoroughly saturate. Maintain wetness for 10 minutes, then remove excess liquid or allow to air dry.
Watch the Video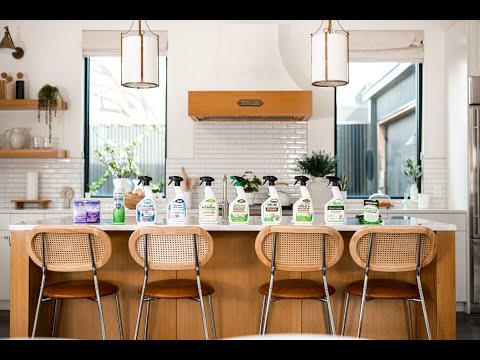 Choosing a selection results in a full page refresh.
Press the space key then arrow keys to make a selection.