RMR-86® Instant Mold Stain & Mildew Stain Remover
Description
Tired of unsightly mold stains that never go away despite back - breaking scrubbing? The RMR - 86® Instant Mold Stain & Mildew Stain Remover is the product you need.
The potent formula doesn't require dilution. It's ready to use right out of the bottle and will deliver fast - acting results. Developed by disaster restoration professionals with years of experience, RMR - 86 is purpose - built to work quickly and efficiently.
Spray RMR - 86 on deeply stained surfaces to watch mold and mildew lift before your eyes! Our formula is safe for various indoor and outdoor materials, including concrete, wood, vinyl siding, bathtub tiles and more!
The best part? RMR - 86 doesn't require scrubbing! Ditch the wire brushes and constant reapplications. With the RMR - 86 stain remover, every mold and mildew cleanup job is one and done!
Deep - Penetrating Formula: RMR - 86 penetrates deep into surfaces to lift years - old stains. Make every surface around your home look like new!
Odor - Fighting Power: Say goodbye to gross, musky smells. RMR - 86 combats odors and leaves no trace of mold and mildew behind.
Versatile Use: Use the RMR - 86 stain remover on surfaces in and around your home. From dingy shower tiles to the mildew - ridden wooden deck in your backyard, our formula can do it all!
Quick and Easy Clean: The powerful formula starts working the second you apply it. Get rid of stains without complex tools, hours of scrubbing or constant reapplications.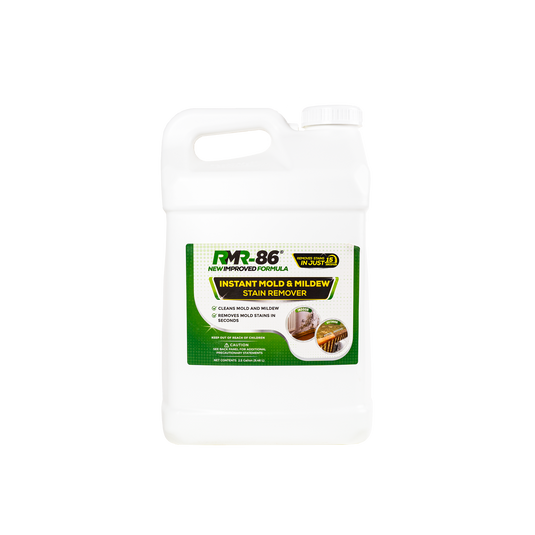 Remove Stains in Seconds
Ready to say goodbye to pesky mold and mildew stains? With RMR-86® Instant Mold Stain & Mildew Stain Remover, taking care of deeply embedded mold issues is a cinch!

Our fast-acting formula makes quick work of even the most stubborn mold and mildew stains. Best of all, you can ditch the wire brushes, sanders, and hours of scrubbing. The ready-to-use spray requires zero dilution. Apply it to surfaces as-is, and you'll see those ugly stains lift in minutes.
For Personal and Professional Use
RMR-86 penetrates deep into surfaces to provide a like-new appearance. Developed by disaster restoration professionals who constantly deal with mold issues, RMR-86 has a potent formula fine-tuned to get things done swiftly and efficiently the first time. No more constant reapplications, blowing through ineffective products, or spending hours trying to get so-so results. If you want a stain remover that just works, RMR-86 is it!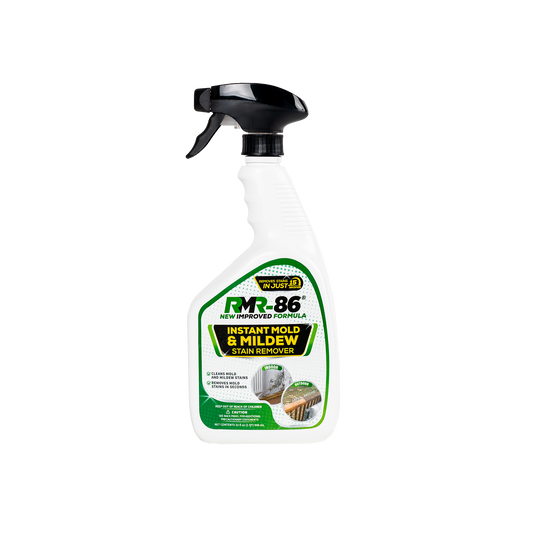 RMR-86® Instant Mold Stain & Mildew Stain Remover
How To
32oz spray bottle
Make sure surface is dry and free of debris
Shake bottle, and spray desired surface
Leave surface wet until mold/mildew stains disappear
On appropriate surfaces (fencing, siding, outdoor surfaces, shower walls, etc.) thoroughly rinse or use a wet sponge.
Follow up with RMR-141 or RMR Botanical Disinfectant to kill mold
Gallon/2.5 Gallon
Add solution to pump sprayer or bleach rated electric sprayer.
Spray affected area quickly, using wide sweeping motions, to cover entire area.
Wait for a few moments and watch while RMR‐86 eliminates the mold stains.
If, after a few moments, evidence of the stain still remains, a second application of RMR‐86 may be needed.
Once the stain has been removed to your satisfaction, we recommend using RMR‐141 or RMR Botanical Disinfectant to treat all surfaces after RMR‐86 has been applied.
RMR‐86 can be corrosive if applied to the following materials: duct work, copper, metal, mechanicals, nail plates, steel, aluminum, or any materials prone to corrosion. If RMR‐86 is accidently applied to these materials, quickly wash area with soap and water or wipe down with WD‐40.
RMR-86 and RMR-86 PRO are part of a 2 step process step 1 is to remove the stains with RMR-86 and step 2 is to kill the mold by applying and EPA registered Fungicide like RMR-141 and RMR Botanical Disinfectant.
Watch the Video