RMR-86 PRO Instant Mold Stain Remover
Description
Ditch the hand - scrubbing, soda - blasting, and constant reapplications. If you want to get rid of mold and mildew stains once and for all, you need RMR - 86 PRO!
CONTRACTOR - GRADE FORMULA
RMR - 86 PRO is an aggressive fungal stain remover five times stronger than anything else on the market. Created by mold - removal experts, our formula contains some of the strongest ingredients. One example is Hybrid Ultrapure Sodium Hypochlorite™, a deep-penetrating surfactant that breaks apart and dissolves stains in minutes.
Eliminate discoloration and the lingering odors mold and mildew usually leave behind. Treat porous surfaces like wood, concrete, drywall, grout and much more! It's a versatile product that substantially lowers cleaning and restoration costs.
Not only does it work quickly, but it doesn't require complex tools or tons of labor. All you have to do is give the gallon a shake and apply the solution with a standard sprayer or our RMR electri c sprayer. Wait a few moments, and you'll see RMR - 86 PRO lift stains.
Impressive Stain - and Odor - Busting Power: Powerful stain - dissolving ingredients are no match for even the most challenging mold and mildew problems.
Cost - Saving Results: With no scrubb ing, sanding or blasting required, our penetrating formula can save you a fortune in labor costs. At least ten months of shelf life will make RMR - 86 PRO your go - to solution.
Versatile Applications: Use RMR - 86 PRO on a variety of surfaces. From concrete and tile to wood and vinyl, it's the best choice for all mold and mildew cleanup jobs.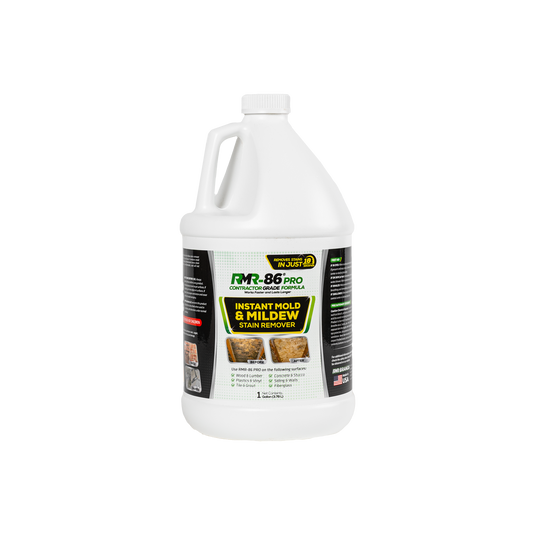 Even Stronger and Lasts Longer
RMR-86 PRO is a more aggressive mold stain and mildew stain remover than the original RMR-86. This new integrative formula is designed to last longer and is five times stronger than any mold stain and mildew stain remover on the market today. The new RMR-86 PRO is a mold stain cleaner that utilizes special deep penetrating surfactants with Hybrid Ultrapure Sodium Hypochlorite™. It creates a deep-cleaning action that breaks apart stains, dissolving them quickly and easily, while removing the ugly mold/mildew stain color.
Watch Stains Disappear
Having trouble removing mold stains? No problem with this ready to use product that requires no mixing, just shake well and apply with a standard pump up sprayer or our RMR Electric Sprayer. Watch those deeply embedded fungal stains disappear within seconds. This contractor grade formula will now give you at least 10 months of shelf life, if not more. Start saving even more and use less with RMR-86 PRO. If you are still hand sanding, soda blasting, or using any other chemical other than RMR-86 PRO, you are wasting thousands of dollars in not only product cost but labor cost as well. Last but not least, don't forget to apply RMR-141 RTU to kill the mold after RMR-86 PRO. Pick up the phone today or go to our distributor locator page to find product near you.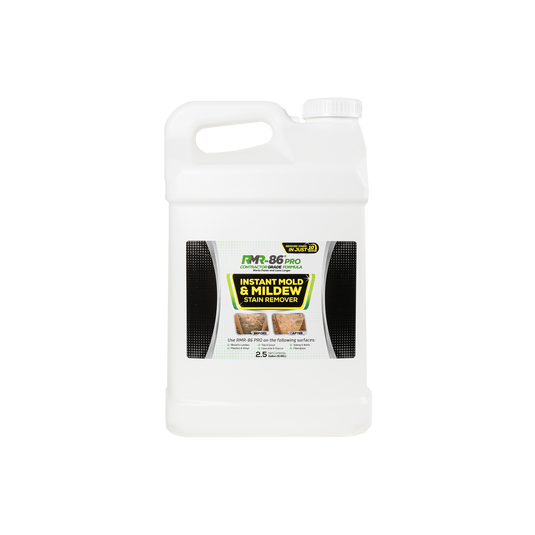 RMR-86 PRO Instant Mold Stain Remover
How To
Gallon
Add solution to pump sprayer or bleach rated electric sprayer.
Spray affected area quickly, using wide sweeping motions, to cover entire area.
Wait for a few moments and watch while RMR‐86 eliminates the mold stains.
If, after a few moments, evidence of the stain still remains, a second application of RMR‐86 may be needed.
Once the stain has been removed to your satisfaction, we recommend using RMR‐141 or RMR Botanical Disinfectant to treat all surfaces after RMR‐86 has been applied.
RMR‐86 can be corrosive if applied to the following materials: duct work, copper, metal, mechanicals, nail plates, steel, aluminum, or any materials prone to corrosion. If RMR‐86 is accidently applied to these materials, quickly wash area with soap and water or wipe down with WD‐40.
RMR-86 and RMR-86 PRO are part of a 2 step process step 1 is to remove the stains with RMR-86 and step 2 is to kill the mold by applying and EPA registered Fungicide like RMR-141 and RMR Botanical Disinfectant.
Watch the Video