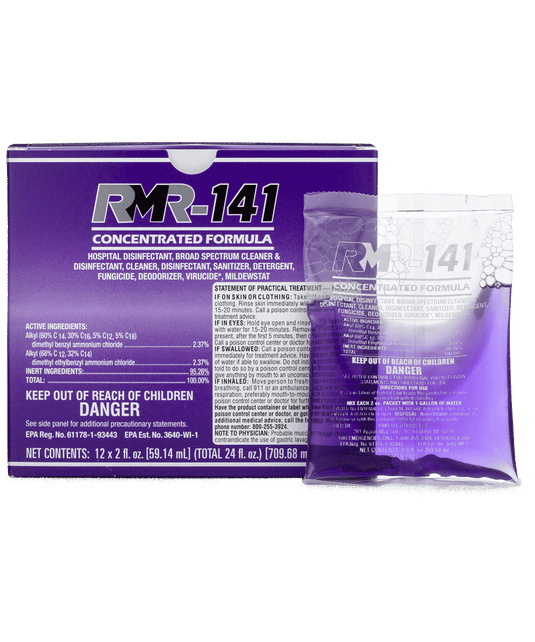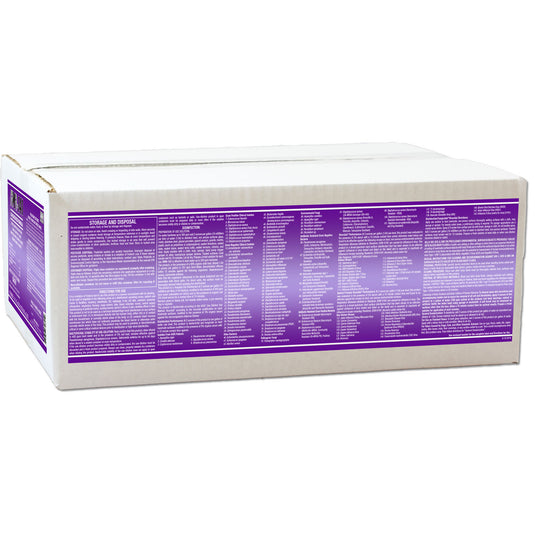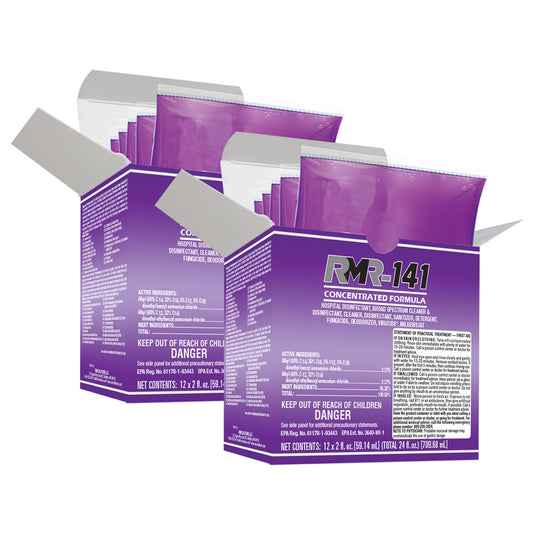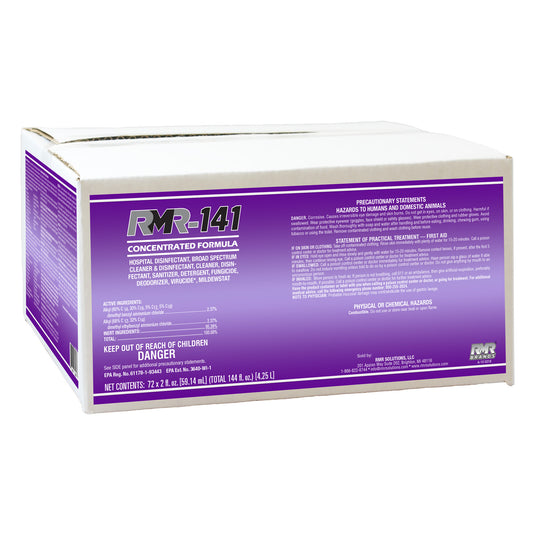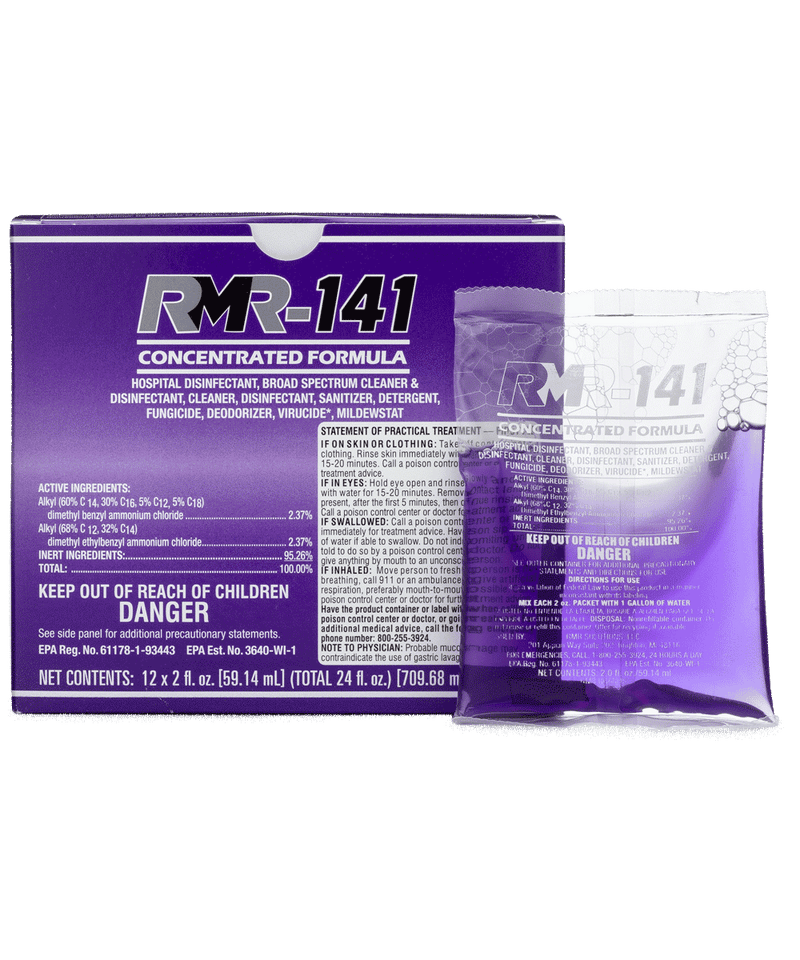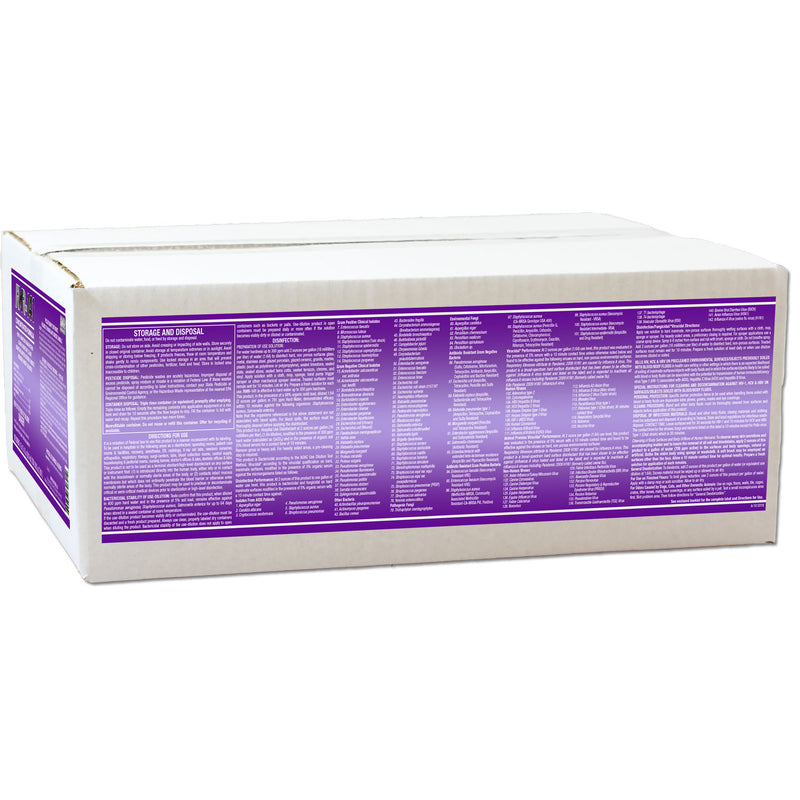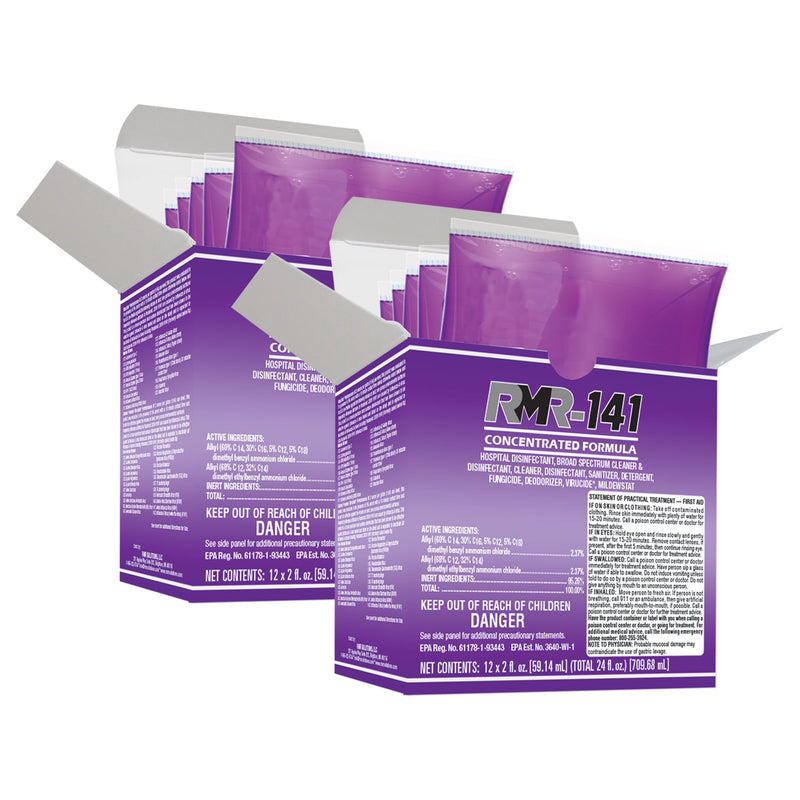 RMR-141 Concentrate Packets
Description
Have the RMR - 141 cleaner and disinfectant always on hand, no matter where the job takes you. The RMR - 141 Concentrate packets make it easy to get the world's best EPA - registered disinfectant whenever you need it.
The concentrate is easy to prepare. Add wat er according to the instructions, and you're ready to go! Each packet creates one gallon of ready - to - use solution.
RMR - 141 is a powerful formula that takes a multi - action approach to treat surfaces. It's a broad - spectrum fungicide and germicide that can e ffectively kill more than 141 unique microorganisms. Use it to sanitize surfaces and make properties safe for use. RMR - 141 is a popular choice for hospitals, restaurants, stores, schools and more.
RMR - 141 does more than disinfect. It also cleans and deodo rizes. Best used on non - porous surfaces, it can eliminate mold, mildew and the smell it leaves behind. Ditch odor - causing bacteria and say goodbye to the growth that occurs in warm, damp areas.
RMR - 141 is a fantastic product for protection. Use it after mold and mildew removal to create an effective barrier against future troubles. Our potent formula inhibits mold and mildew growth, making it the ultimate finisher on a killer cleanup job.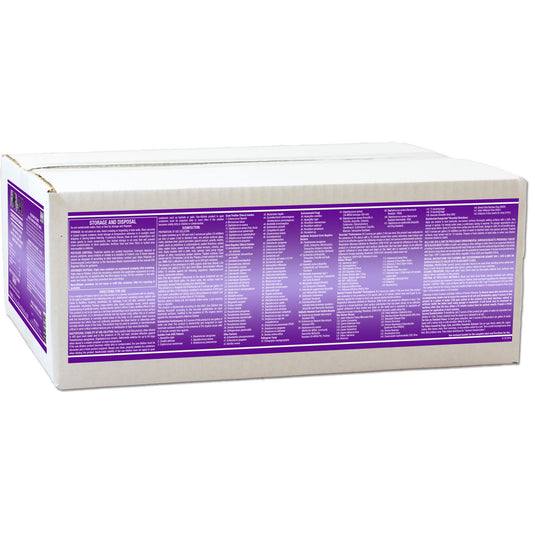 Powerful cleaning solutions for the toughest jobs
RMR-141 Disinfectant is an EPA-registered fungicide, sanitizer, cleaner and deodorizer that is specifically formulated to eliminate mold while inhibiting the growth of mold and mildew. This industrial strength formula removes 99.9% of household germs and odor-causing contaminants, is effective against a broad spectrum of germs, and removes lingering odors when used as directed.
Safe to use on most hard, non-porous surfaces
When used as directed, RMR-141 will disinfect, clean and deodorize most residential and commercial surfaces. The multi-purpose formula is ideal for use in professional kitchens, bathrooms, hotels, offices, hospitals, basements, floors, behind and under sinks, on countertops, garbage cans, storage areas, and other places where mold and mildew growth can cause malodors. RMR-141 is an all-in-one product for treating wood framing, carpets, and other porous and nonporous surfaces. This is your go-to product for water damage restoration, sewer cleanup, mold removal, disinfecting and deodorizing. It's the only ready-to-use disinfectant that kills 121 microorganisms!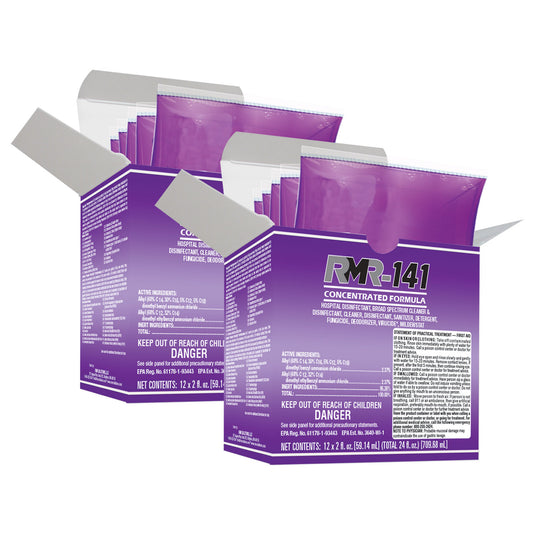 RMR-141 Concentrate Packets
How To
Prior to application, preclean all heavily soiled surfaces.To clean, deodorize, and disinfect, simply apply product with a sprayer, cloth, sponge or other suitable applicator until the surface is thoroughly saturated with the solution. Let the solution sit for 10 minutes, then wipe dry or air dry to remove the excess. Do not use RMR-141 on glasses, dishes, or utensils.
Watch the Video